Structural renovations create an inviting interior
George and Claudia from Melbourne, Australia relocated from Kew when they found tranquil acreage in the outer suburb of Research, Victoria. To assist them in transforming the dark and segmented 1980s house into a warm, spacious, and inviting contemporary home, they engaged Interior Designer Sally Wilson of Substance Within Design.
Improved spatial planning was central to the renovation, focusing on creating an inviting open plan kitchen, dining, living and outdoor space for entertaining friends and family. They replaced the existing kitchen with a much larger version, with aspirations of hosting formal dinner parties as well as casual family dinners.
Conjuring up the feeling of a luxury travel refuge
George and Claudia sought to incorporate elements of a luxury travel resort into the comfort and usability of an everyday home by prioritising the connection between the indoor and outdoor spaces.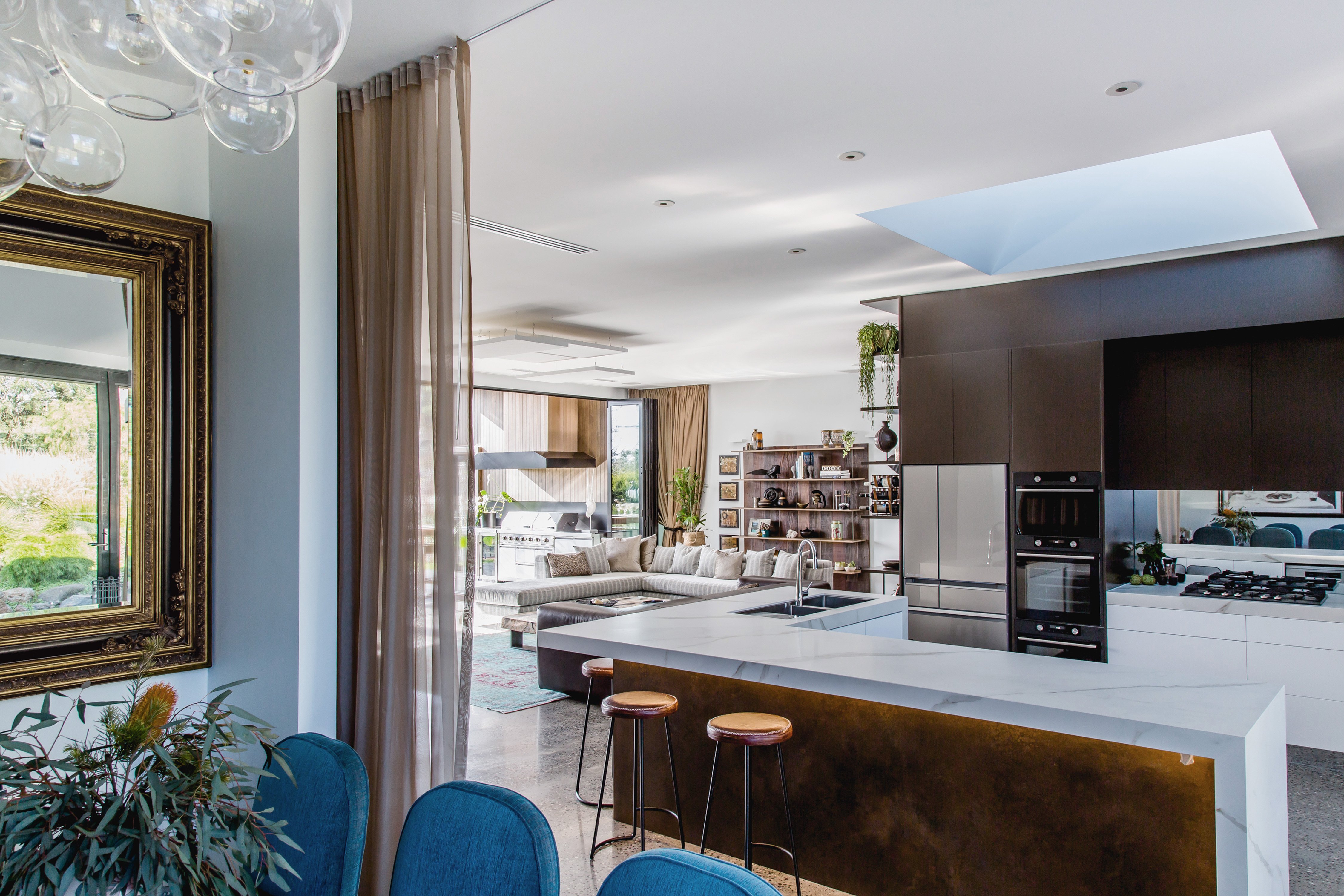 Use of sheer curtains made it possible for them to capture as much natural light in the home as possible, while also accommodating the fluctuating Melbourne climate.
"Improved spatial planning was central to the renovation, focusing on creating an inviting open plan kitchen, dining, living and outdoor space for entertaining friends and family."
FR-One's high performance fire-retardant sheer Offa in reef (Part of the Offa & Gossy collection) creates maximum light with softly defined room partitions between living areas. Its light-weight elegant drape in a walnut shade complements the spicy, earthy finishes throughout the space.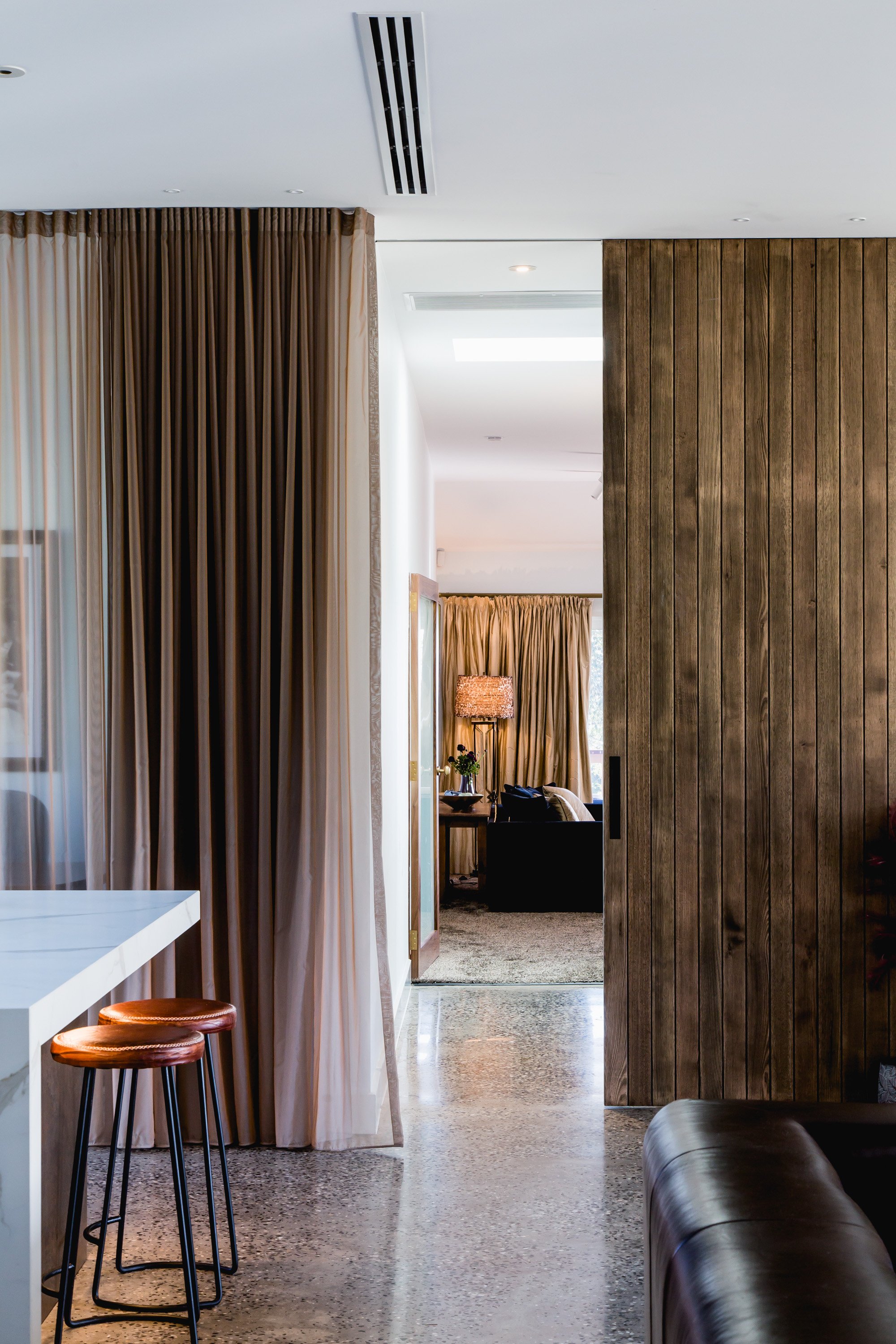 Sally describes this fabric as having "the most fabulous sheen and on the right angle or with movement, a striking turquoise colour emerges to complement the dining chairs! The wave fold curtain header achieves both simulated movement and a soft, light separation of the living zones".
Claudia's South African heritage was a major influence in the design aesthetic of this project, around which Sally was able to build a colour palette of earthy, organic tones with accents of turquoise and rust.
Maximalist touches through furniture design
These maximalist influences are played up most notably in the furniture. Papillon Furniture covered the mid-century sofa and cushions in Carmen by Zepel for a seamless and sleek look which contrasts beautifully with the textured raw materials, patinaed carpet and bold patterns in the space.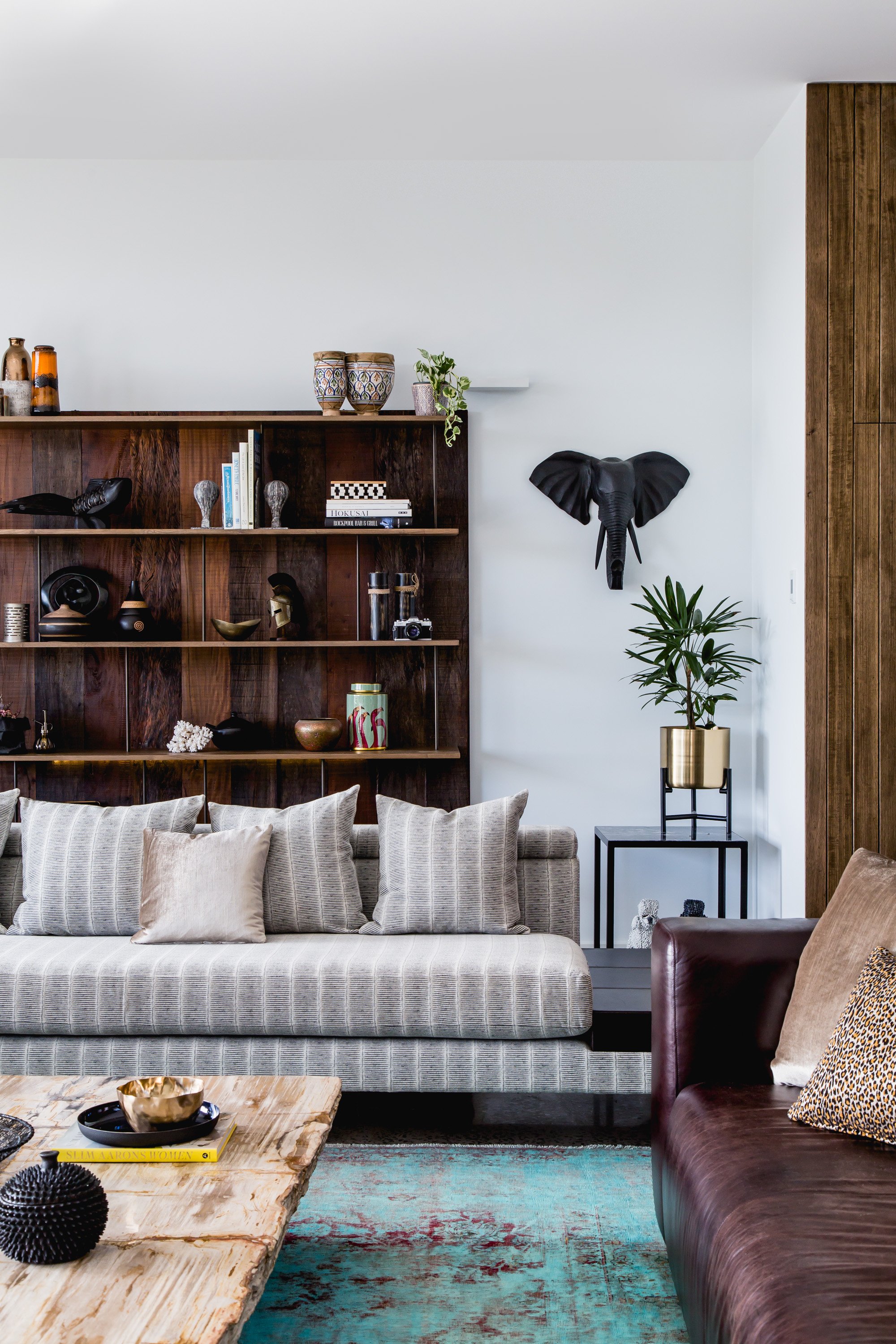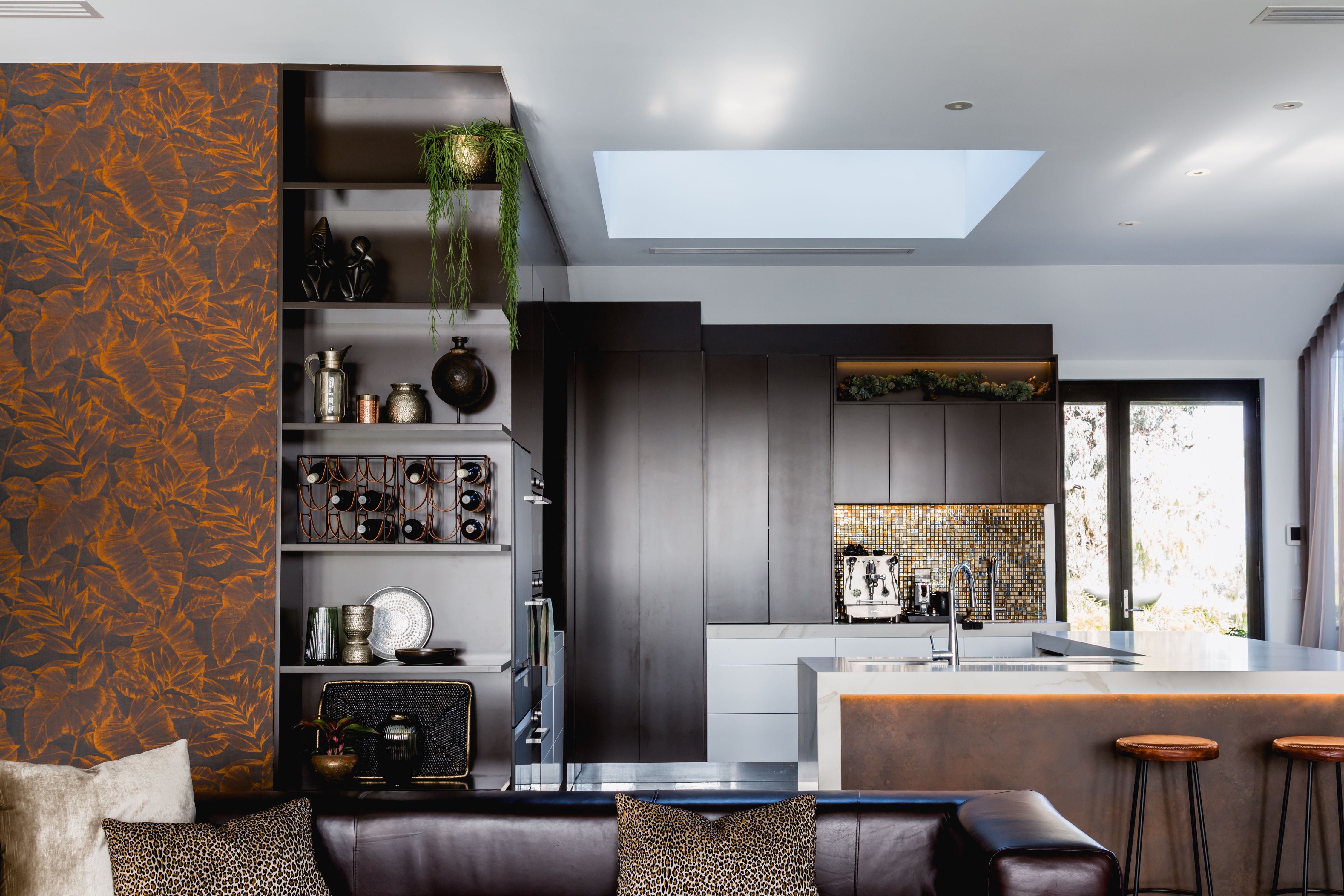 This cohesive colour scheme draws the eye from the moving drapery, across the reflective kitchen and arrives at the flourishing large scales palm leaves in wallpaper design Hoja by Casamance. This two-tone, maximalist jungle palm design with metallic orange accents perfectly encompasses the clients' design brief.
Sally notes this, "could not have been more perfect to inject an unmistakable African aesthetic into the main living room. While very different materials, the sheer drapery Offa fabric and Hoja wallpaper, complement each other perfectly. The elegance and reflective nature of wallpaper helps to elevate the earthy tones of the sofa cushions and monochrome nature of the Carmen Sofa Fabric and polished concrete floor".
Upholstered headboards give a touch of extra style
Texture and colour extend to the bedrooms with these refined bedheads each showcasing unique colour schemes that channel earthy, sparse plains and flourishing vegetation, both synonymous with an African landscape.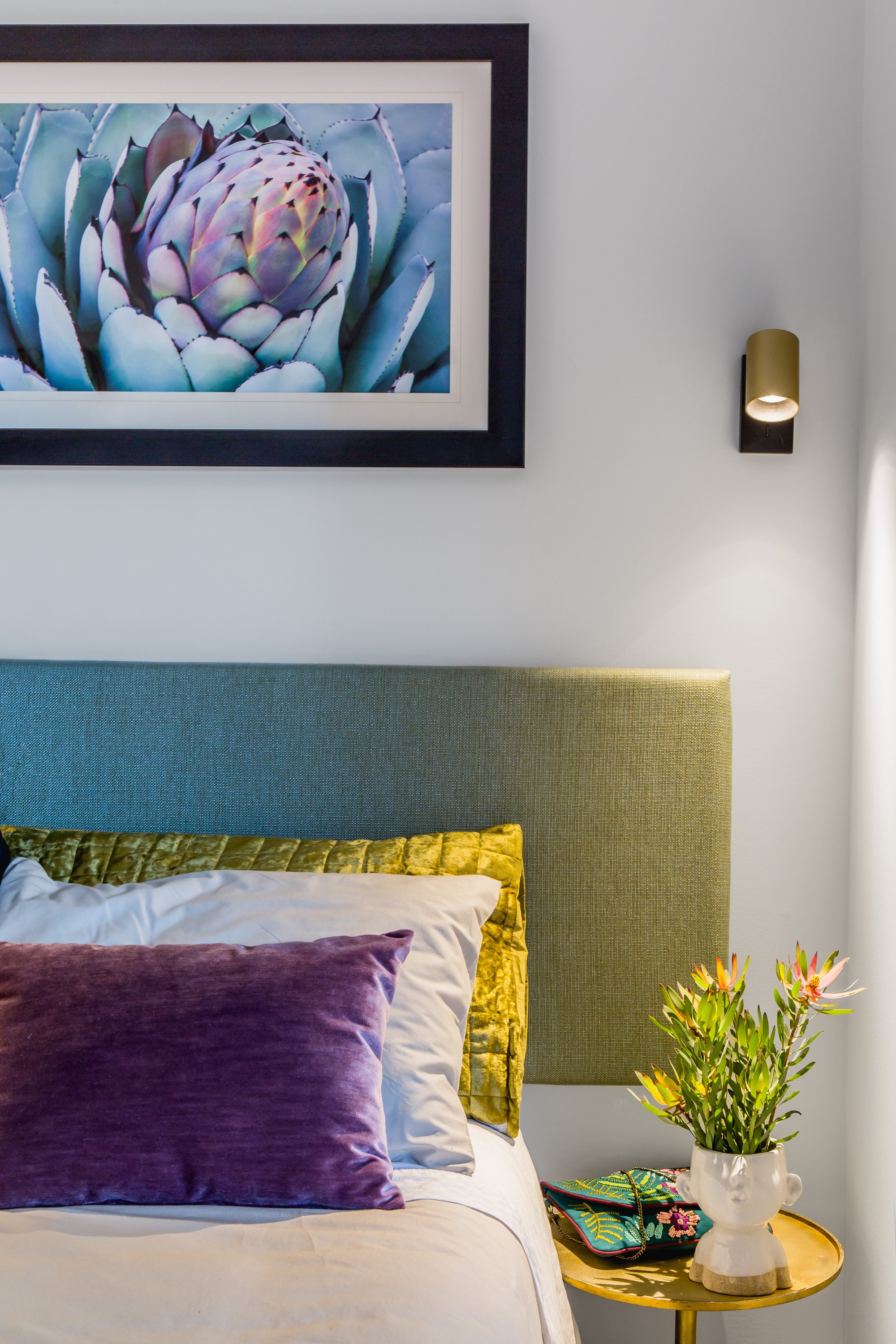 Zepel's Layer Metallic in 'bronze' fabric features a weave texture with reflective surface beautifully complementing the plush furnishings, while Zepel's Barbarian in 'lichen' adds a point of difference with its plain, canvas finish against the velvety elements in the other bedroom.
"Overall, there is a mixture of elegant, plush, robust and organic fibres that reflect light, create warmth and invite relaxation!"
Interested in using FR-One fabrics in your next renovation project?
Get in touch with us today to begin the specification process for your next hospitality project. For further peace of mind, it's good to know that FR-One fabrics meet all fire-retardant standards in force worldwide, both on land and sea.

Find your regional FR standards here.
---
Case study credits:
Zepel fabrics wish to give their thanks to Morgan @ Shade Collective and Robert @ Papillion Furniture for the window coverings and custom furniture & upholstery.
Photography by Suzi Appel, interior styling by Julianne Bull, both from The Den Interiors
Designer: Sally Wilson – Director & Principal Interior Designer, Substance Within Design