Our inherently fire-retardant fabrics are the result of a long series of responsible choices. In fact, responsible design is the foundation to our dedication to continual improvement.
At FR-One, our sustainability initiatives have always been focused on consumers, partners, and our environment: just like the design movement we're exploring today.
Have you heard about 'biophilic design'?
It's a term that seems to be everywhere with the growing importance of sustainability in architecture and interiors. It's a fast-growing area within the green building industry – and it affects interior decorating and contract projects too.
What is it, exactly? Why is it important? How is this reflected in our own collections of inherently fire-retardant fabrics?
Let's find out.
Biophilic design: running on plant power? Yes but there's more
At its most fundamental, biophilic design is a research-backed field that explores our inherent connection to nature, and our co-dependence within it.
Biophilic design can reduce stress, improve cognitive function and creativity, improve our well-being and expedite healing; as the world population continues to urbanize these qualities are ever more important…It articulates the relationships between nature, human biology, and the design of the built environment so that we may experience the human benefits of biophilia in our design applications. – source
Books like Your Brain on Nature (Selhub & Logan, 2012) bring biophilic design front and centre, with a view to supporting and uplifting humans in areas like workplace stress, productivity, patient recovery, and strengthening communities.
While plant life is a big part of a biophilic designer's toolkit, this design movement goes far beyond adding plants, trees, living walls or living roofs into a built environment. It's an offshoot of the growing study around the intersection of neuroscience and architecture.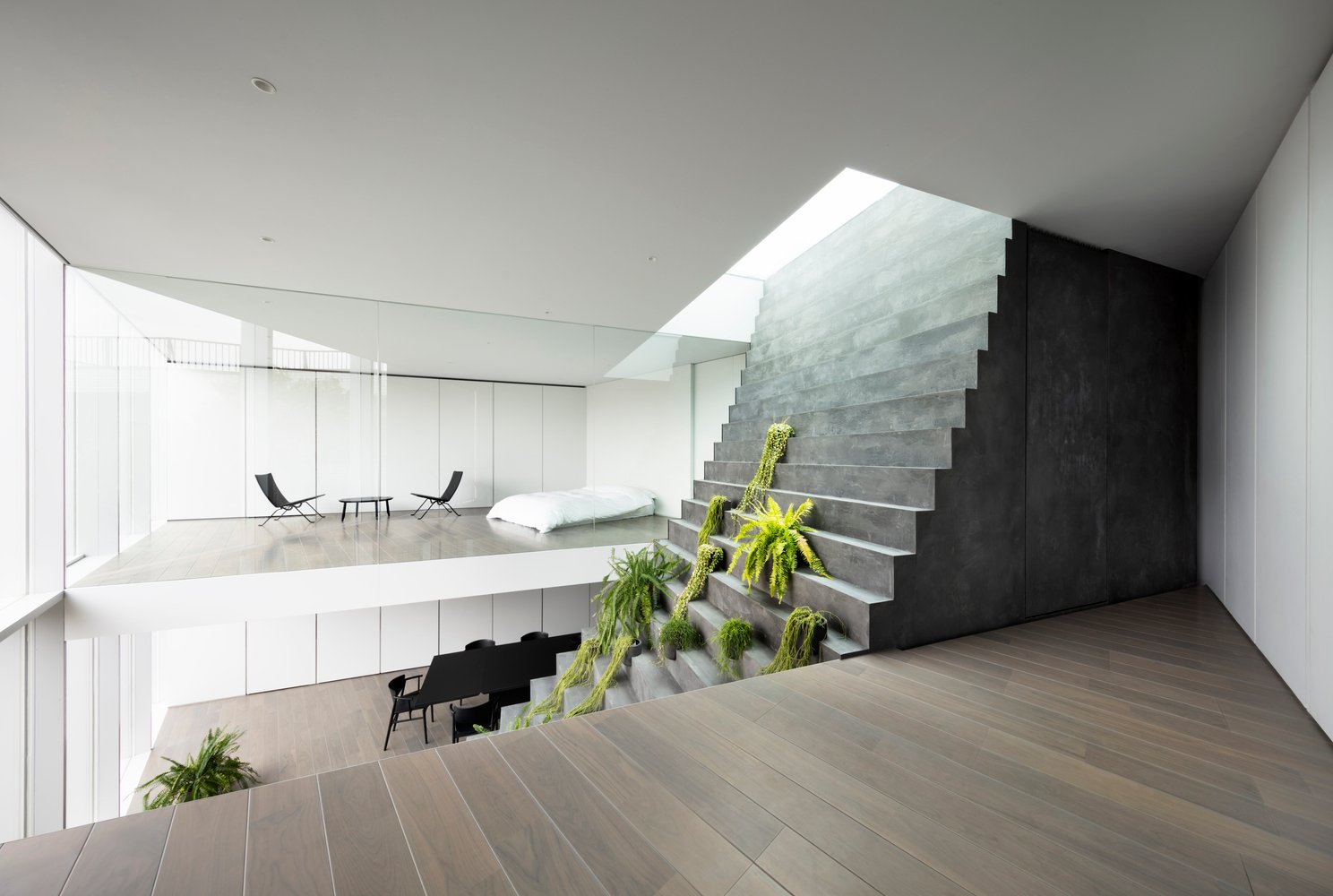 Stairway House, Tokyo - Nendo
Like natural ecosystems, biophilic design is a multi-sensory movement, and it's by working with all these different elements together that a balanced structure and end experience is created. We explore these elements below.
Good biophilic design is grounded in location
No two places are the same. This is the challenge that architects, and designers face when they work to achieve a hyperlocal feel in their projects.
This focus on the specific location of the build is important for the environment too, as it encourages certain design choices and integrations that reflect the climate, ecology, and landscape around it.
FR-One's focus on consumers, partners, and our environment's requirements has led us to re-use, recycle, re-purpose, and ultimately RE-Invent our own collections: we're proud to launch 3 new fabric constructions in these extraordinary times, manufactured from recycled polyester, fully certified and compliant with the Global Recycled Standard (GRS). Read about this exciting first for FR-One.
Natural visual elements: organic shapes and earthy details
Humans are largely visual creatures and incorporating natural elements visibly into an interior is the first step towards creating a space that boosts wellbeing.
Visual connections to small parts of the natural world, even just details, have been shown through scientific studies to be restorative. Therefore working with organic motifs and elements can be beneficial to the end-user of the space.
An example of these visual elements can include colours, patterns, organic contours, plants, motifs from the natural world, foliage, mimicry of shells and leaves.
The tangible, tactile textures of an interior space
Biophilic design places an equal weight on touch and sound as well as vision because we are multisensory beings, as well as visual creatures.
Designers stimulate the senses by using materials that have been created with a deliberate reference to natural textures. Our perceptions of texture begin in infancy, and therefore texture is such an important facet of interior decoration because it evokes emotional reactions on a subtle level.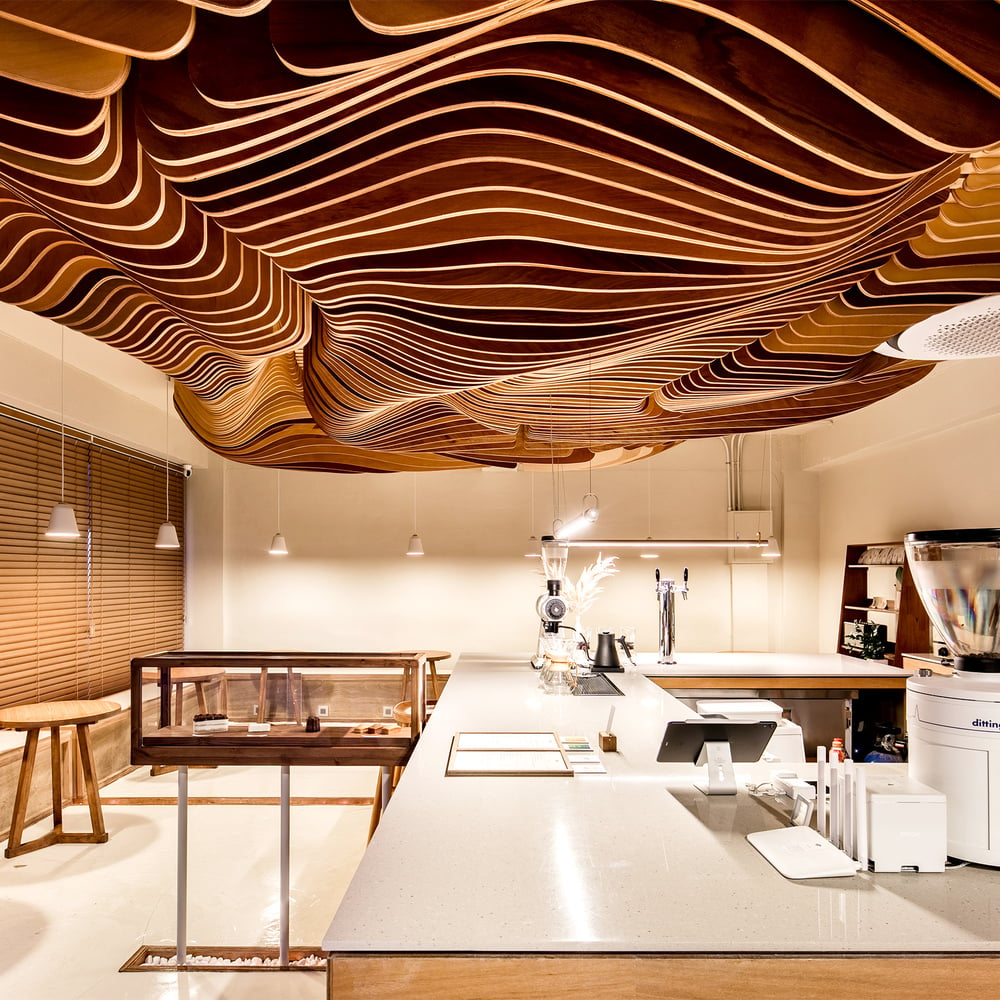 Perception Cafe by Haejun Jung - Feelament
Converted loft, London - Chan & Eayrs
Light and air
Architecture comes alive thanks to light – it's fair to say that the quality of light can make or break an interior space. We're seeing biophilic designers working with daylight sources entering from multiple angles, or with softer lighting such as firelight, candlelight or even moonlight.
"Architecture is the learned game, correct and magnificent, of forms assembled in the light" - Le Corbusier
On a renovation and refurbishment project, designers should pay attention to how they can utilise existing architectural details to play with shadow and shade. Interior designers can also affect the ambience of a room by working with sheers and dim out curtains to diffuse light.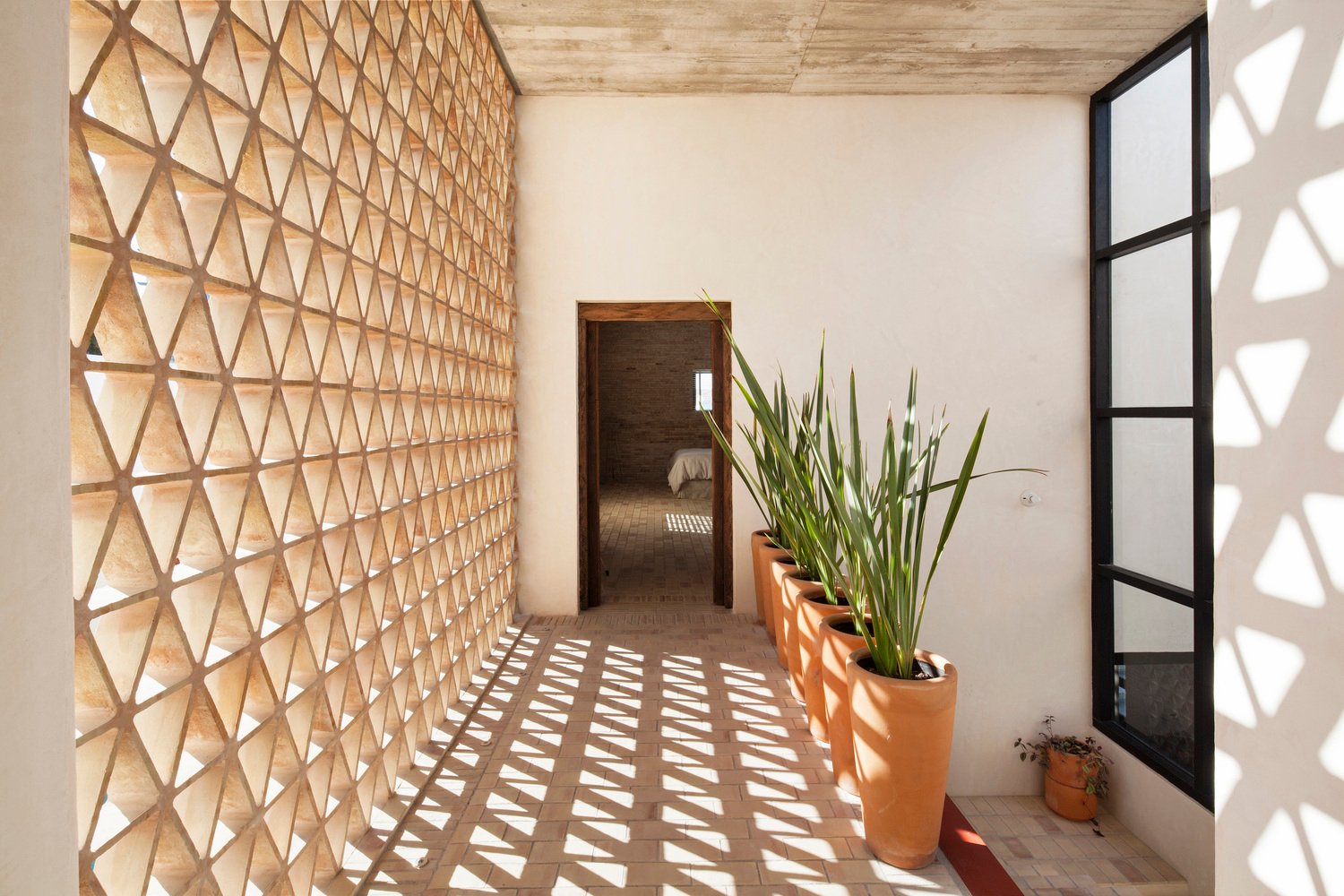 Iguana House / OBRA BLANCA
Billowy sheers affect light based on factures such as drape, movement, fabric quality and opacity. We've also seen designers using screen materials that shift or shimmer with light or breezes.
Your reference guide to biophilic design
Here is a quick recap of the areas we covered in this article to help you incorporate biophilic design elements into your next project:
- The neuroscience of nature. Biophilic design works with what we know about the human brain and our emotions to create built environments and design interiors to enhance the wellbeing of its users.

- Good biophilic design is grounded in location. This is not only better for the surrounding landscape and architectural façade, it aids architects in creating a truly unique structure, because no two places are the same.

- A space that is visibly connected with nature feels whole, refreshing and calming (as proved by science).

- The natural world is full of interesting textures with a vast range of qualities: make use of them in an interior to create a visual impact as well as a subtler impact on the sense of touch within the space.

- Light and air: controlling both in a built environment can bring the inhabitants back to earth and enhance their overall wellbeing and stress levels.
- Biophilic design is a movement that changes and shifts just as much as natural ecosystems do. Be sure to come back and read more about this interior and architectural powerhouse: or explore the topic in our new Pinterest inspiration board.