In this blog post, we look at five different ways in which you could bring aspects of 'Optimism' into your design schemes.
1. Be bold with colour
Bold colour choices are at the heart of the 'Optimism' trend so don't be afraid to really go for it with colour. The latest Maison et Objet design fair in Paris was bursting with vibrant hues, providing a welcome change to the Scandi, pared-back vibe which has dominated in previous seasons. The colour palette we have chosen for Optimism reflects this, with its vivid range of bold hues including mustard, magenta and charcoal.

We're also seeing a new sense of boldness spreading to bathrooms and kitchens as well as to living areas. Where white and neutrals once ruled in these practical spaces, colour is now coming to the fore. Burlington Bathrooms recently launched its new 'Jet' range which features high gloss, black ceramic baths, basins and toilets. Inspired by Great British heritage, this selection of sanitaryware aims to bring 'classical glamour' to the bathroom.

In the kitchen, colour is also leading the way for 2020/2021. The popularity of navy blue kitchens is showing no sign of abating, reinforced by Pantone's decision to choose 'Classic Blue' as its Colour of the Year for 2020. The new way to use colour in the kitchen is to combine two contrasting tones to create a striking, playful effect. A run of bright orange units, for example, can work really well with pale green tones. There's also a move towards introducing vivid pops of colour in splashbacks and accessories.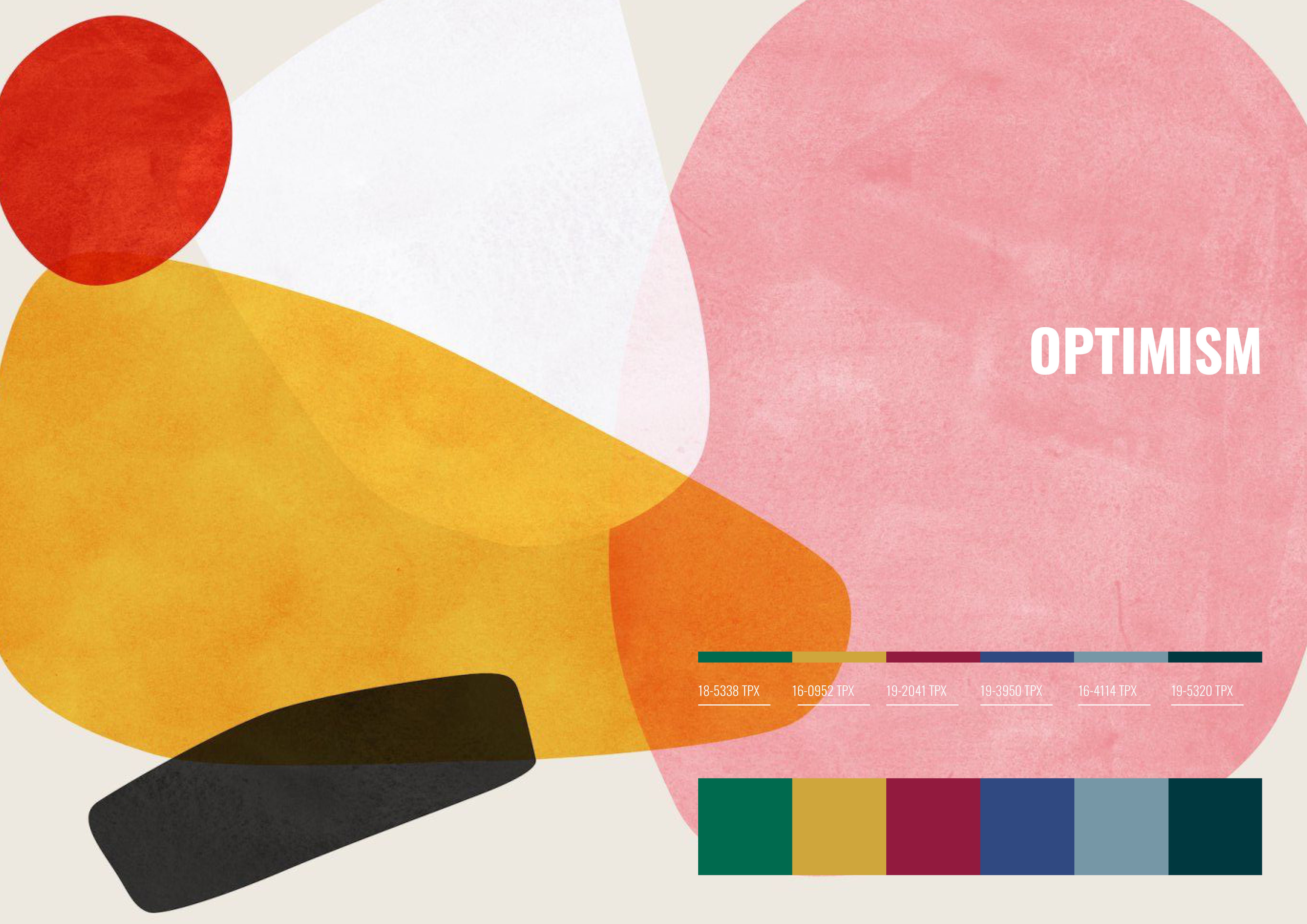 2. Take a playful approach
Another key aspect of our Optimism trend is a playful, light-hearted approach. Discover your inner child and introduce quirky accessories, bright textiles and geometric shapes to create a fun scheme that doesn't take itself too seriously.

Furniture with a more rounded shape was much in evidence at the latest interiors fairs. Think curvy, 'fat' sofas and organic-shaped pieces that add an unexpected element of playfulness to a space. There's also a leaning towards Neotenic design in furniture and accessories – a cute chubbiness inspired by baby animals. A great example of this is R & Company's Baby Bear armchair which adds a charming sense of childlike whimsy with its fluffy texture and cute 'ears'.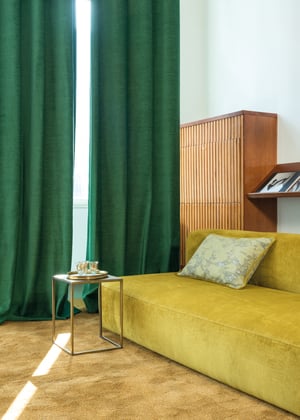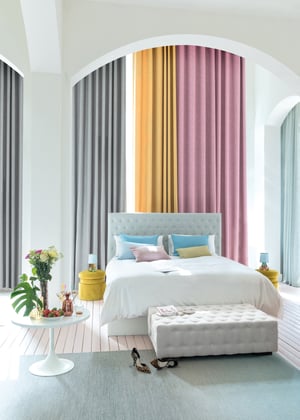 3. Introduce vivid patterns
In the spirit of fearless 'Optimism', bold and colourful patterns are going to be big news in 2020 and beyond. And it's a case of the more the merrier as we see a layering of contrasting patterns to create a highly individual, eclectic look. Geometric patterns are particularly on-trend this season, but bold animal prints and florals are still making themselves known. A maximalist backlash to the more rigid minimalism we've seen over the last decade.

When it comes to wallpaper, we particularly like Graham & Brown's Jardin Grey wallpaper with its exotic birds and butterflies in contrasting teal, yellow and pink shades. For a bold geometric design, our choice would be Harlequin's Arccos pattern which has a tactile, yarn-like effect and comes in three different colourways.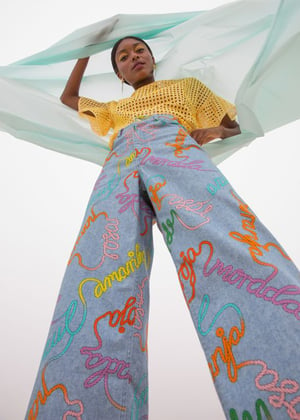 4. Think ethically & sustainably
As well as taking a cheerful approach towards colour and pattern, the Optimism trend also looks kindly upon our planet and our communities. With this in mind, there is a move towards using ever more eco-friendly materials that will cause the least possible harm to the environment. Repurposing furniture and accessories from one project to another is also key here, thus reducing waste and reducing the impact on the planet.

Many of the recent design fairs saw a prolific use of natural, sustainably-sourced materials such as organic cotton, linen, wool, bamboo and jute. And many design companies are taking their lead from global corporations such as Ikea, who recently announced their intention to only use renewable or recycled materials by the year 2030.

From a purchasing point of view, the Optimism trend also advocates using local suppliers and contractors rather than buying from anonymous global players. This has the effect of supporting the local economy and create a more cohesive sense of community.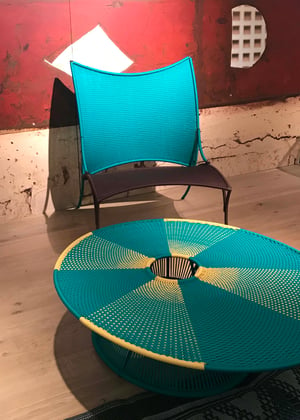 5. Adopt a global outlook
A key part of thinking optimistically when it comes to design is to include diverse global and cultural influences. For 2020/2021, this comes in the form of richly-coloured woven designs featuring natural materials such as rattan, wicker and bamboo. It's all about furniture and accessories reminiscent of far-flung climes featuring ethnic patterns such as decorative ikats and beaded embellishments.

British-based brand Oka sums up this authentic, handcrafted style perfectly, featuring a carefully-curated range of globally-inspired homewares. From their Spring 2020 collection, we would pick out the elm and rattan Taino Bench and dress it with cushions made out of our Jubilea Jedi fabric. The perfect way to bring in the global element of the Optimism trend.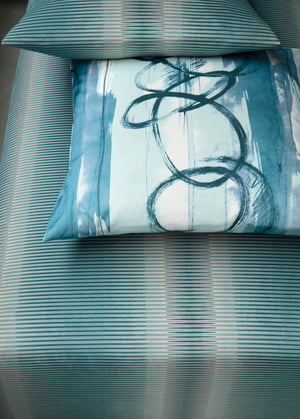 If you want to know more about our trends forecast for 2020/2021, download our Trends Book here.