One of seven key interiors themes we've identified for 2020/2021, this trend covers the way in which designers are now approaching industrial style. Focusing on simple forms and practical, hard-wearing materials, 'Post-Industrial Society' takes inspiration from our industrial heritage.
Here, we explore five ways in which you could introduce the trend for 'Post-Industrial Society' into your interiors projects.
1. Reference the structure of the building
The urban nature of 'Post-Industrial Society' means that architects aren't afraid to 'show the workings' when it comes to designing living spaces. Exposed brickwork, pipes and beams proudly reference the functional elements of a building's structure, taking cues from industrial warehouse design.

The new way to bring in this trend involves finding less expected ways to make a nod to our industrial past. It's a much more subtle approach than was prevalent in the 1980s when warehouse living first became popular.

Crittall-style frames are everywhere for 2020/2021, but you don't have to limit these elegant, black frames just to windows and doors. Room dividers and even shower enclosures are getting the Crittall treatment. We particularly like the Velar shower screen from Frontline Bathrooms with its stylish glazed panels and matt black framing.

Industrial-style lighting is another good way to bring an urban edge to your interior. Reclaimed, factory-style pendants are on the rise and work particularly well when positioned above a dining area.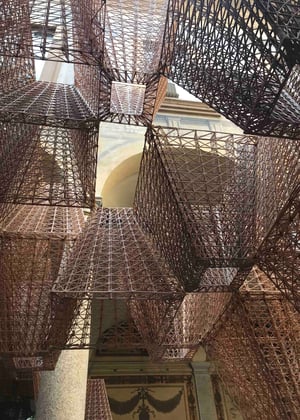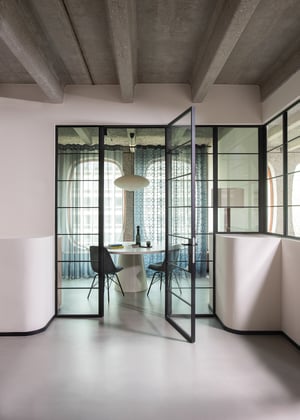 2. Make a nod to the Bauhaus movement
A key part of our 'Post-Industrial Society' trend is referencing the Bauhaus movement which was established in 1919 in Weimar, Germany. Bridging the gap between art and industry, this innovative design movement rejected all unnecessary ornamentation and instead celebrated simple, streamlined forms.

Geometric shapes were favoured as were simple materials such as glass, leather, steel and concrete. Craftsmanship was also celebrated and brought in line with architecture to create more democratic collaborations.

Bauhaus-inspired pieces of furniture are a great way to bring this flavour into your interior. The classic Barcelona chair or Wassily chair make great investment pieces, particularly when positioned in pairs within a contemporary scheme.
Metallics could also be introduced via some of the exquisite sheers from our Osian collection. Our 'Obduce' fabric gives a beautiful chainmail effect – bringing texture and interest to a window while still allowing light to filter through.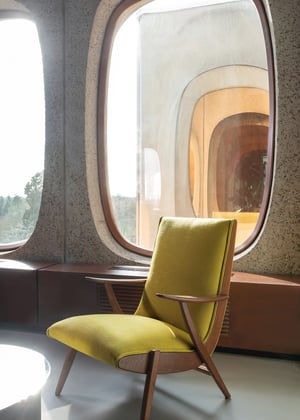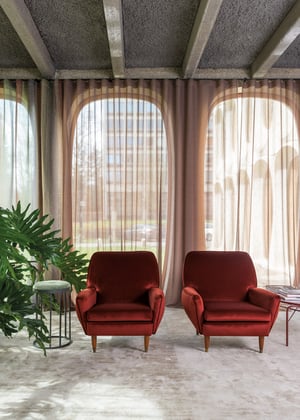 3. Embrace simple forms
Clean lines, strong shapes and simple applications of colour are big news for the coming seasons as we reinterpret urban design. The 'Form follows function' adage, first coined by American architect Louis Sullivan in 1896, urges us to consider functionality before all else.

From this approach, straight lines and simple shapes emerge akin to minimalist design. Think pale, unadorned spaces in which less is more. Part of this is a reaction to our increasingly demanding, digital lifestyles and a nostalgia for the simpler pleasures of the analogue age.

Floor-to-ceiling white tiled walls, for example, bring a clean, factory-like feel to a space. And the on-trend way to create this is with the use of long, skinny tiles placed vertically to create a linear aesthetic. The Yuki Border tile from Raven is a great example of this.
Another way to introduce simple geometric shapes to a scheme would be to use our 'Laneway' chenille jacquard fabric. This geometric herringbone comes in five different neutral colourways and is perfect for use on both curtains and upholstery.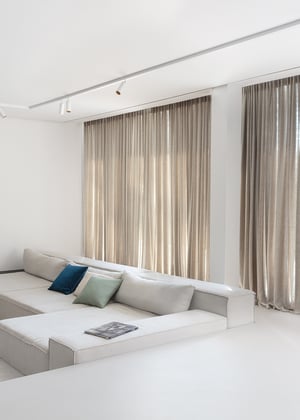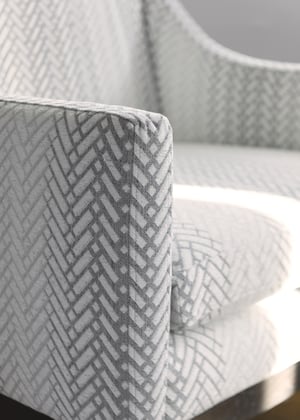 4. Use industrial materials
When it comes to material selection for our 'Post-Industrial Society' trend, there's a definite nod towards Modernist Architecture and its love of concrete, glass and steel. Also key to this look are highly polished surfaces created from ceramic tiles or terrazzo.

Poured concrete floors and worktops are proving increasingly popular – not least because they are the perfect way to bring a chic urban edge to an interior scheme. Concrete also works well paired with natural materials such as teak or bamboo to create a striking contemporary contrast.

Terrazzo, which is made from multi-coloured marble chips, was widely used as a flooring material for mid-century airports and schools. This highly durable composite is now experiencing a massive resurgence, popping up on everything from walls to worktops to tables.
As well as bringing a much-need utilitarian vibe to an interior, terrazzo also has sound eco-credentials because it is often made from recycled marble and granite offcuts. London-based stone manufacturer Diespeker & Co prides itself on using recycled materials for many of its terrazzo ranges.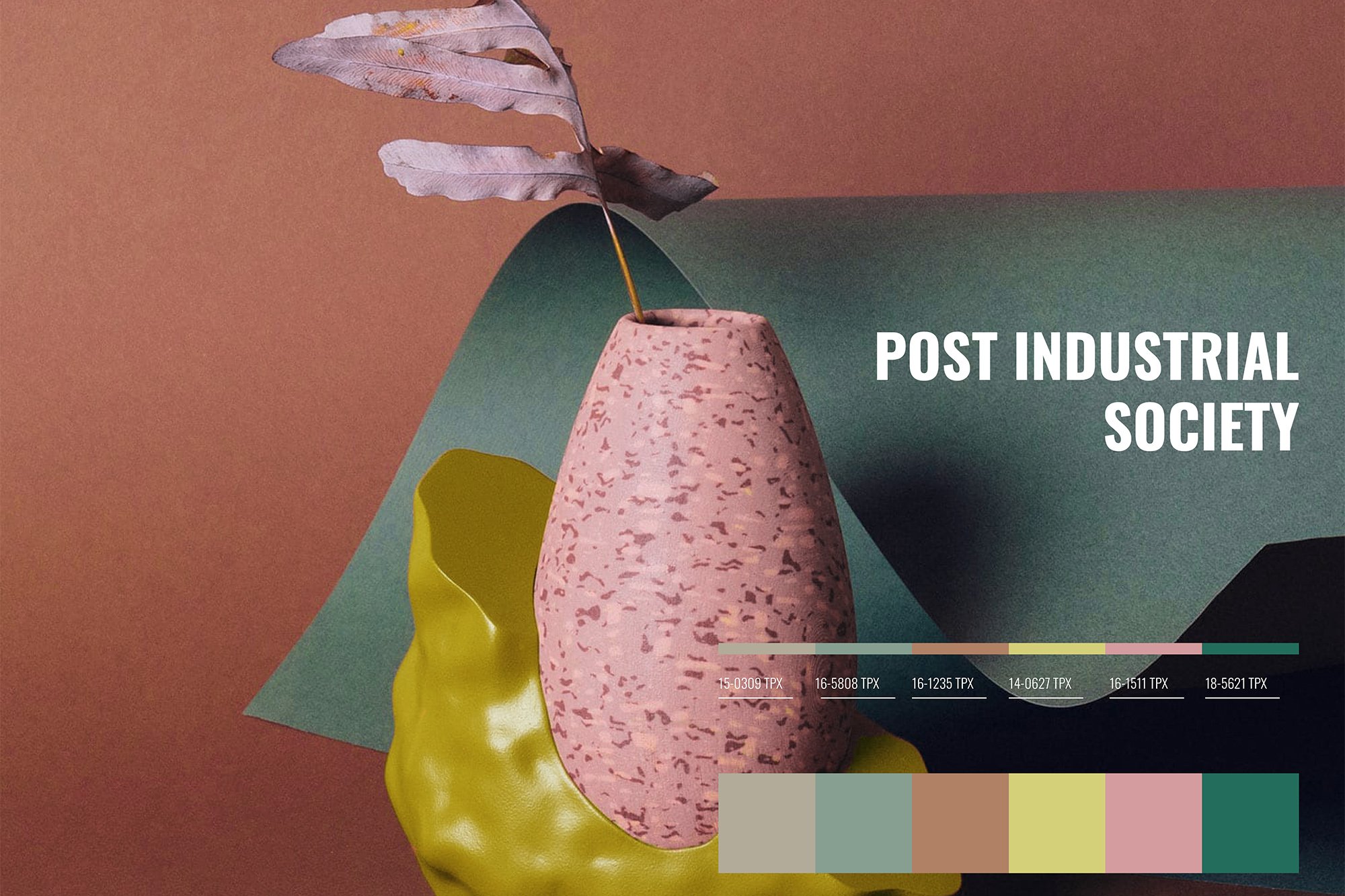 5. Introduce modular furniture
In this reimagined version of industrial design, multi-purpose furniture with more rounded edges is coming to the fore. Sofas are chunky but low level, and often have modular sections that can be pulled apart to create more flexible seating options.

The flexibility of this multi-purpose element allows you to have less furniture in the space – in keeping with the restrained quality of our 'Post-Industrial Society' trend. These substantial, 'heavy shaped' pieces of furniture also appear anchored firmly in the space they occupy, bringing a welcome sense of solidity to a scheme.

Another great example of flexible furniture is a newly launched 'Reversible' table by stone specialist Diespeker & Co. The cuboid table, which comes in marble, granite or terrazzo, can be flipped over to create a whole new look. The ultimate adaptable piece that can help facilitate a 'less is more' approach to interior design.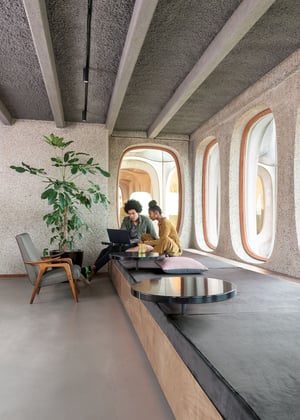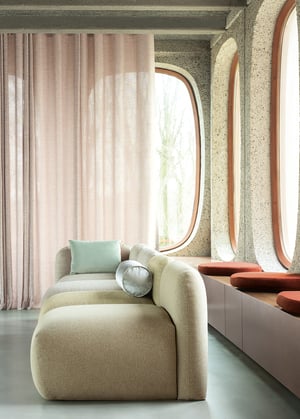 If you want to know more about our trends forecast for 2020/2021, download our Trends Book here.