The interview has been lightly edited for clarity.
J. MAYBURY: How have the contract market and the hotel and hospitality industry been faring during all this disruption?
O. DELHOMME: I've always seen these industries as untouchable because I always thought that no matter what was happening in the world, people still want to enjoy life. Suddenly that was taken away from us.
Now, to be clear, it hasn't completely stopped the hospitality industry. If we don't have any lockdown coming up in the summer, we'll see it thrive. I'm hearing from people in Italy and France everywhere is fully booked. I am of course talking about hotels on the Riviera and other hotspots, but nevertheless, these areas are booming right now.
The idea of a 'return to pre-COVID' is still far off. We are talking about 2024/2025 to be back to where we used to be.
According to the AHLA, hotels in the US have lost more than $46 billion in room revenue. The industry experts expect hotels to lose up to $400 million in room revenue per day based on current occupancy rates and revenue trends.
J. MAYBURY: Before COVID-19 and the early days of the first lockdowns happened, how many nights a year, roughly, would you have spent in hotel rooms?
O. DELHOMME: I was trying to slim down towards 200, but I think in 2019 I was closer to 250 nights away. So, basically, my home was a plane.
Experts are predicting that 5 - 10% of business travel will be permanently lost, due in part to remote working tools that enable virtual meetings. – The Hotel Tech Report
Now we see that it is the hotels that serve mostly business travellers: they are really struggling. There is no business travel anymore.
There's a question mark then: do we need to travel that much at all? What's the purpose of business travel? There are a lot of questions that need to be answered, and I think we are going to see the answers arise in the years to come.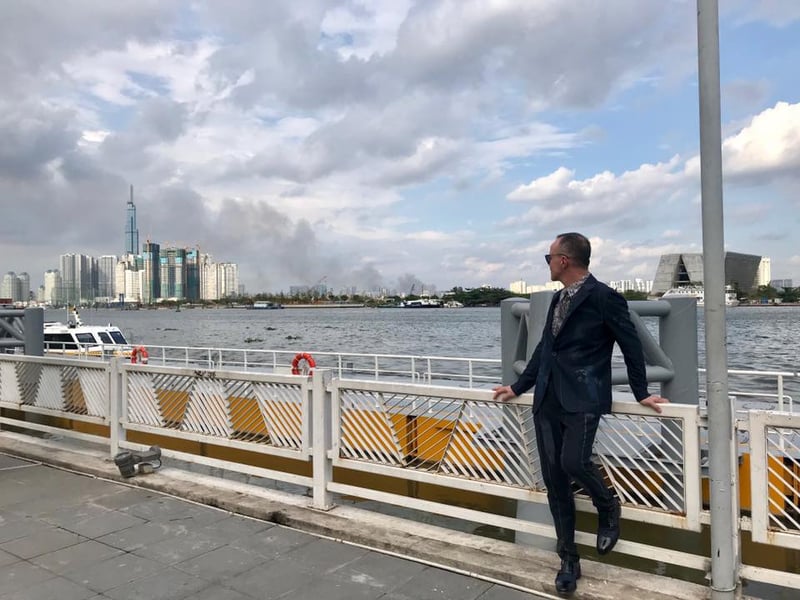 (Olivier Delhomme in Saigon, pre-COVID19)
In some ways, however, I find it very exciting. We were already working in a very complex supply chain situation. If you look at shipping: just getting a simple container from one from one place to the other was a huge undertaking.
The effects of these stresses on the supply chains are causing ripple effects.
"What will not taper off [post-COVID] is how much organisations, especially our customers, have recognised the value of future-proofing their supply chain through technology."– Gina Chung, vice president of innovation for the Americas at DHL in Transport Topics News.
We are exploring new, innovative ways of transporting goods.
People are ingenious.
They find ways to continue business. I see great creativity coming out of this situation, which at the same time is running parallel to this enormous constraint.
Innovation is the natural human response to any distressing phenomena, and a pandemic on a global scale like this one could be the catalyst for great changes in the hospitality industry going forward.
The interview continues next week
Next week in part 2 of our interview, Olivier discusses the impact COVID-19 has had on sales teams, including our own. We touch upon new skillsets, new communications technology, and how flexibility is a salesperson's greatest strength.
What have you been observing about the hospitality industry in 2021? Join the conversation.