This interview has been lightly edited for clarity.
J. MAYBURY: COVID-19 is not going to magically disappear overnight. How are salespeople adapting in terms of their skillsets?
O. DELHOMME: I think it's more on the communication side that the skills are being required. It's a duality – yes, we need to communicate and be open for that, but ultimately you need the other person to be receptive to digital connection.
Salespeople by their nature are flexible: they have to be. They have always needed to make that connection with their customers, and that isn't changing. Salespeople have a dedication to get where they need to be, no matter what happens. This is their strength.
B2B decision makers globally say that online and remote selling is as effective as in-person engagement, or even more so—and they're not just talking about selling to warm leads. Sellers also believe digital prospecting is as effective as in-person meetings to connect with existing customers. – McKinsey and Company
J. MAYBURY: Could you tell us a little bit about the move to digital platforms?
O. DELHOMME: We are all still learning how to get the maximum benefit from the technology we are using. Technology ultimately needs to support our plans and the ways we work, not the other way around. It is here to support the sales process, and that is the bottom line.
70 percent of B2B decision makers say they are open to making new, fully self-serve or remote purchases in excess of $50,000, and 27 percent would spend more than $500,000. – McKinsey and Company
This past year, I have seen a lot of people that I might have only seen occasionally in once-a-year meetings, trade shows or conferences for example. Now it's been easier to connect.
Moving to digital selling was it was not too difficult for us here at FR-One. This is because traveling and living remotely are part and parcel of a salesperson's life. I used to say we were 'remote from the office' – now we're 'remote from the road'.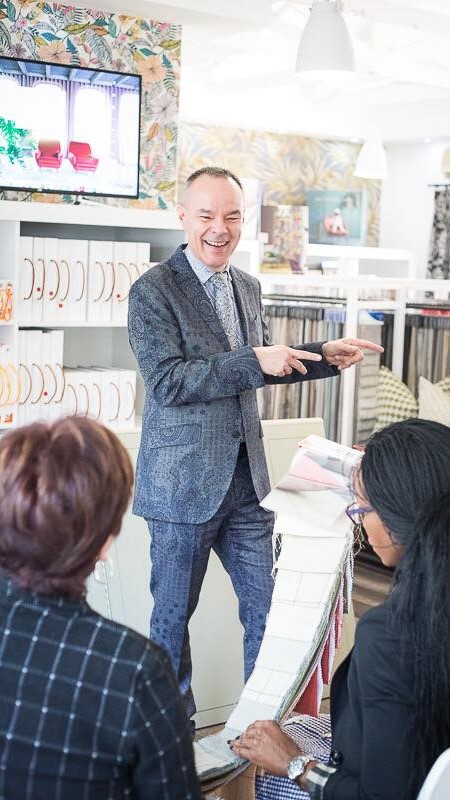 (Olivier Delhomme on the road, pre-COVID19)
To some extent I've quite enjoyed this novelty, or at the very least this 'New World' because I have more contact than I've ever had with people, on a more regular basis now.
Microsoft's CEO, Satya Nadella, remarked that as the pandemic affected every aspect of life and work, "We saw two years of digital transformation in two months." – The Harvard Business Review
J. MAYBURY: How has this affected FR-One?
O. DELHOMME: With FR-One, our vision is always on the future. In the past two years, we went from having photoshoots to being completely digital which was a huge step for us. We had become very skilled at photography.
I was remembering all these crews of people who were involved in those photoshoots. We're now into a different skillset and our current work, showcased in the FR-One brochure this year, is amazing. We can translate emotion in terms of 3D rendering, and still provide an immersive feeling.
Because of this, we were empowered to release collection even during such a turbulent year. If we had gone through a normal photoshoot process when COVID-19 hit, there will be absolutely no RE-Invent.
It's simplistic to present the RE-Invent collection and say that it was a response to COVID-19. It wasn't. We had been developing these new ranges for two years already. It's not just coming up with an idea for a release because of what is happening right now. It's looking ahead.
Of course, in the world of design, one can get caught up in the romantic, creative side of it all. We balance this with a firm foundation. You must be realistic with what you are bringing to the market itself.
J. MAYBURY: You said earlier that your home, pre-COVID, was essentially an airplane.
O. DELHOMME: Personally, I suddenly found myself with much more free time now that the travel aspect of my job was cut out. I was saying to people that I lived here, in Italy, but I was always not living in Italy. That was just my dream. I was there occasionally… but not really 'in person' as such. So it's been …a change, you could say. Now I really do live in Italy.
J. MAYBURY: The constraints of communication and social isolation have made people find ways to connect with each other. Has this changed the way you view your own community?
O. DELHOMME: Last year when nature was in full bloom and we were in total lockdown here in Italy, everything became so quiet. I could hear the river, the birds; I could hear everything. The only other sound was the sirens of the ambulances going to the hospitals. After hearing so many sirens, I reacted, thinking, these guys probably need help.
I trained as a first responder and became an ambulance driver, on top of my role here at FR-One. My sense of community has changed considerably, in wonderful ways.
The future is bright
If you enjoyed today's 'impact on sales' insights report from Olivier, don't forget to check out part one, which focused on impacts to the hospitality industry. We have touched upon new skillsets, new communications technologies, and how flexibility is a business's greatest strength.
How has the pandemic affected your industry? Join the conversation.