Sheer curtains: the highlights
Sheer curtains, often referred to as 'sheers', are a beautiful lightweight curtain that performs many functions in the world of window treatments. They offer privacy in the daytime hours while diffusing light, creating a lovely soft feel in an interior space. They also keep dust and insects out while visually softening rooms with a gauzy, textural look.
When choosing a sheer curtain colour, you need to consider the tone of your walls and flooring. There should be a relationship between these three elements. If you want an effortless, fade-into-the-background vibe, choose a white sheer with a white wall. If you want to add a bit of interest, contrast a grey sheer against a white wall. - Chris Carroll, director of TLC Interiors
Spotlight on one of our top-selling FR sheers: this is Jaba
Jaba is a fabulous sheer collection with a delicate colour palette consisting of great naturals and fresh pastels. With its fine and intricate weave, Jabba has the look and feel of muslin gauze.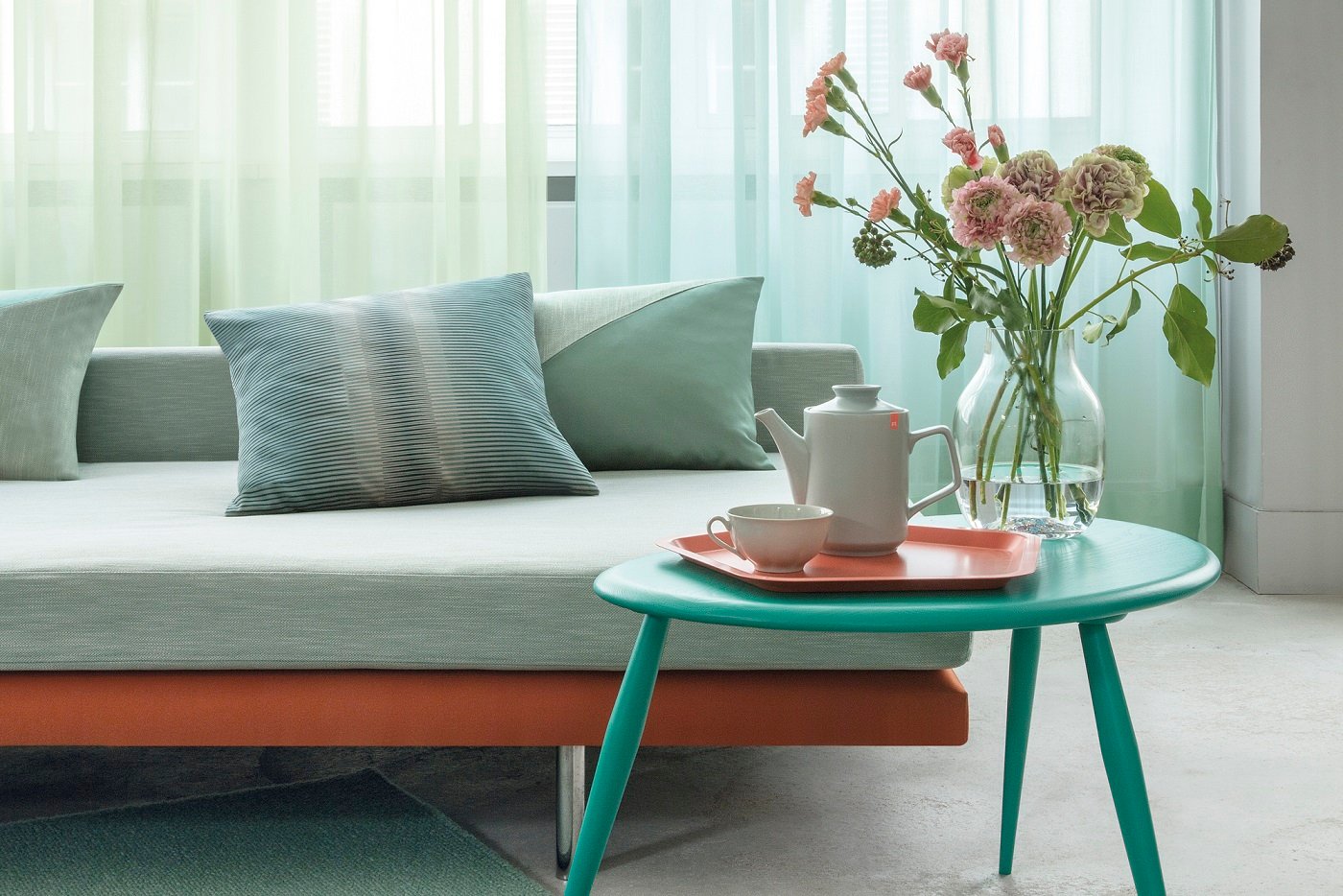 Sheers add a certain amount of (daytime) privacy
Additional privacy is a key feature of sheer curtains, which is very important for hospitality spaces, for example. They don't shut out the daylight completely from the room, but they do add a layer of privacy from passers-by outside.
Layering sheers with other kinds of drapery material gives more control in privacy and light conditions inside a room – also very important for guest rooms in hotels.
Spotlight on a show-stopping FR-One sheer collection: this is Lucence
Lucence is a soft and graceful sheer collection comprised of two wide width designs with mesh-like transparency. Lighten is a fine weave in a honed and subtle colour palette.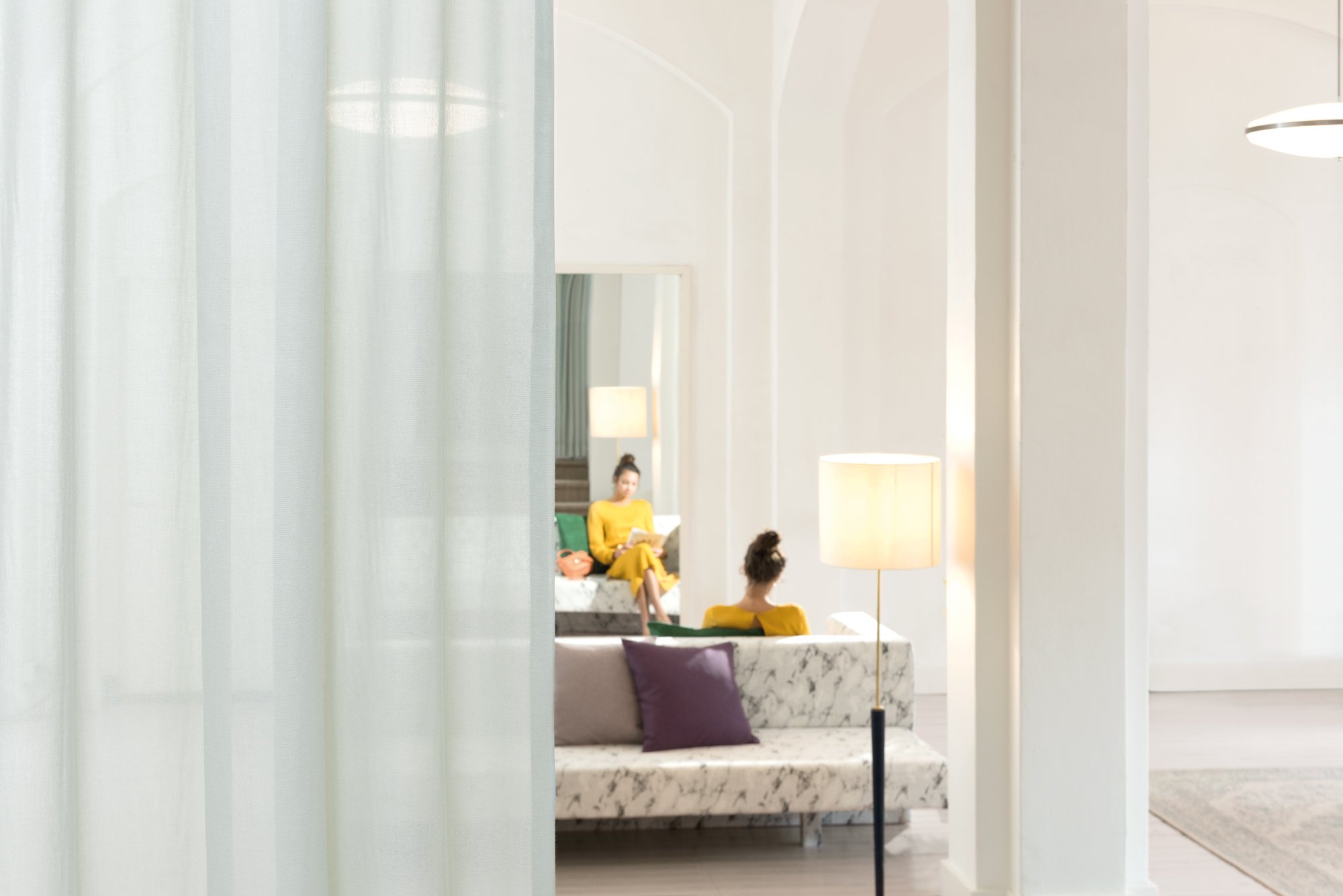 Laying sheer curtains for customisable interiors
Using sheer curtains in a window treatment with dimout and blackout curtains adds to the whole experience of any interior space, through sound absorption, light diffusion, and simply visual interest.
Using dimout fabrics or blackout curtains creates a soothing, tranquil room that's ready for a good night's sleep.
A sheer curtain layer creates a dreamy light-filter between you and the outside world, affording privacy and protection against glare. A second dim out fabric layer shuts out the light, ensuring a good night's sleep. A final layer can be thicker and more decorative: there's nothing more luxurious than some 'me' time. Not only is velvet on trend and beautiful, it also absorbs sound really well. - Maximize your interior design with triple the fabrics

Safety first: fire retardant drapery is a must for hospitality spaces
Decorative fabrics in hospitality spaces must be fire retardant, as standards all over the world demand it. This applies to sheer curtains too, of course.
These contract fabrics must perform to extremely high standards. They must be durable, easily maintained, available in a wide variety of colourways and designs…and fire retardant. Like our entire range of inherently fire-retardant fabrics, our sheer curtain fabrics will not propagate the spread of flames, meaning that they will assist in containing flames by their self-extinguishing characteristics.
Interested in adding dreamy sheers to your hospitality interiors?