In this post, we look at these advances through the lens of our work with the Dormy Care Community homes, an exclusive collection of luxurious rest homes nestled in the heart of the UK countryside.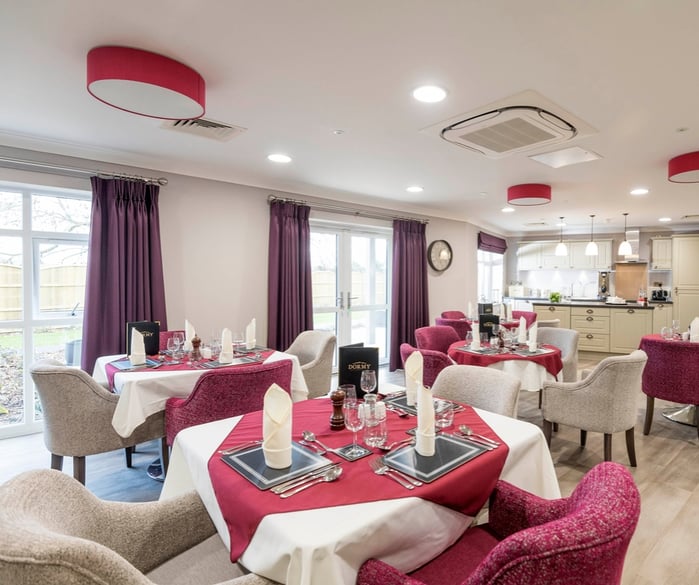 Dining room: Curtains - FR-One, Vanguard, Valhalla
Where luxurious wellbeing and interior design go hand in hand
Each space within the Dormy Care Communities incorporates luxurious design elements designed to enhance the wellbeing of their long-term guests.
FR-One fabrics are used throughout these interiors, particularly in bedrooms and dining areas.
The Dormy Care Communities is an exclusive group of care homes offering luxury living with exceptional care. Founded by Helen Davies-Parsons, a registered nurse for 33 years and with over 27 years' experience in the care home sector, their focus is on providing the highest standards of care and support in the very best environments.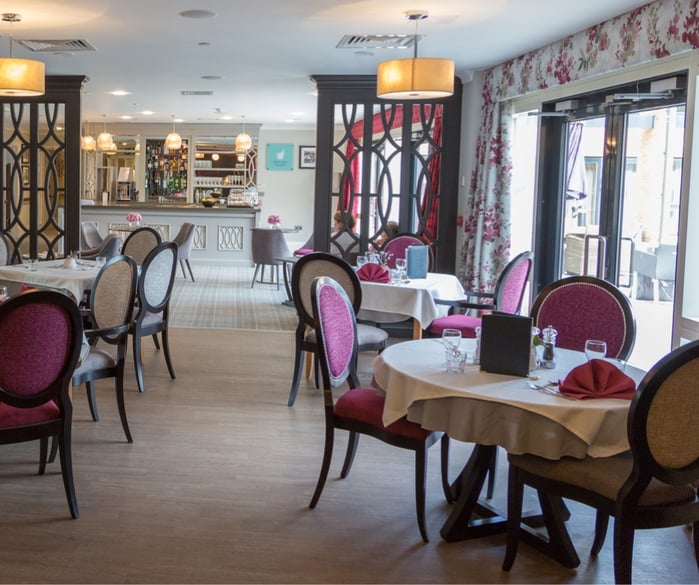 Dining room: Curtains - FR-One, Gossian, Gwendoline
The curation of the interiors in these care communities is the work of Kelly Wilson Interiors (KWI), an award-winning design company who provide a creative interior design service for care homes.
Their work is an innovative fusion of form and function that comes together in beautiful décor and interior furnishings that boost the wellbeing of guests and the efficiency of staff.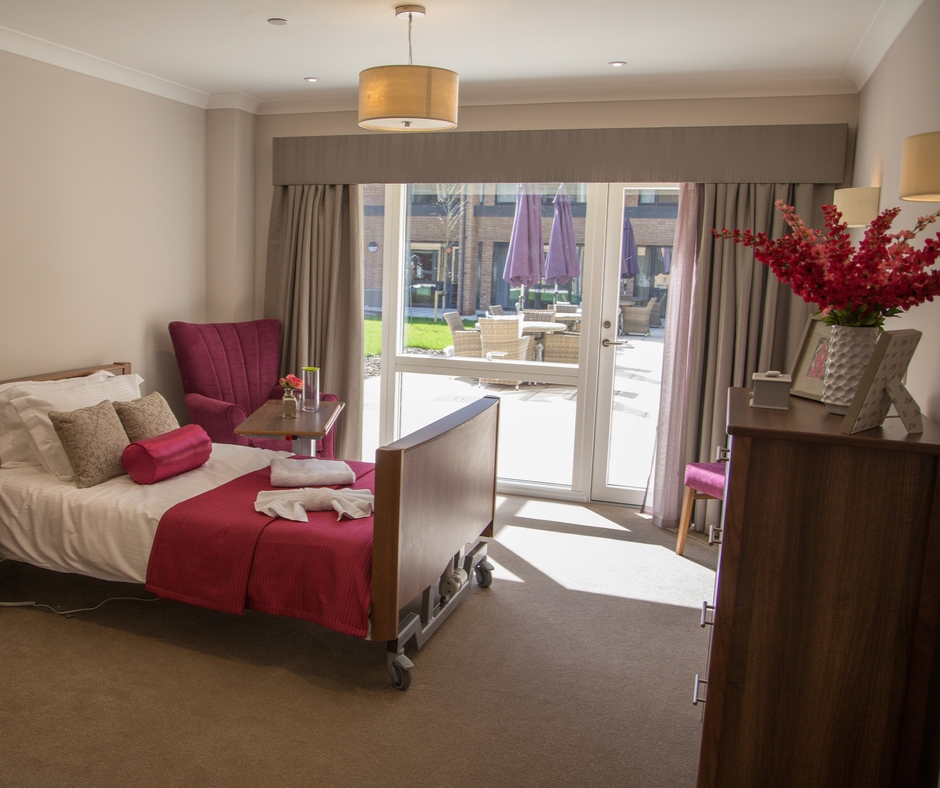 Bedroom: Curtains - FR-One, Grandioso, Goshenite & Gaspeite | Cushions - FR-One, Grandioso, Gaspeite & Golf
Comfort is key for long-term residents of the Dormy Care Community
Windows in the care communities are large, establishing a connection with nature that is very important. Natural elements enter each interior space as well, whether through use of wall-size artwork depicting natural scenes, botanical prints, or placement of indoor plants.
The large windows of these healthcare facilities enhance the level of natural light in each room, another important facet in the overall wellbeing of guests and staff.
Noise can be very distracting and in the Dormy Care Communities, the soft furnishings and careful selection of drapery control it.
Use of cheerful yet calming colour palettes contributes to the feeling of reassuring serenity in these interior spaces as well.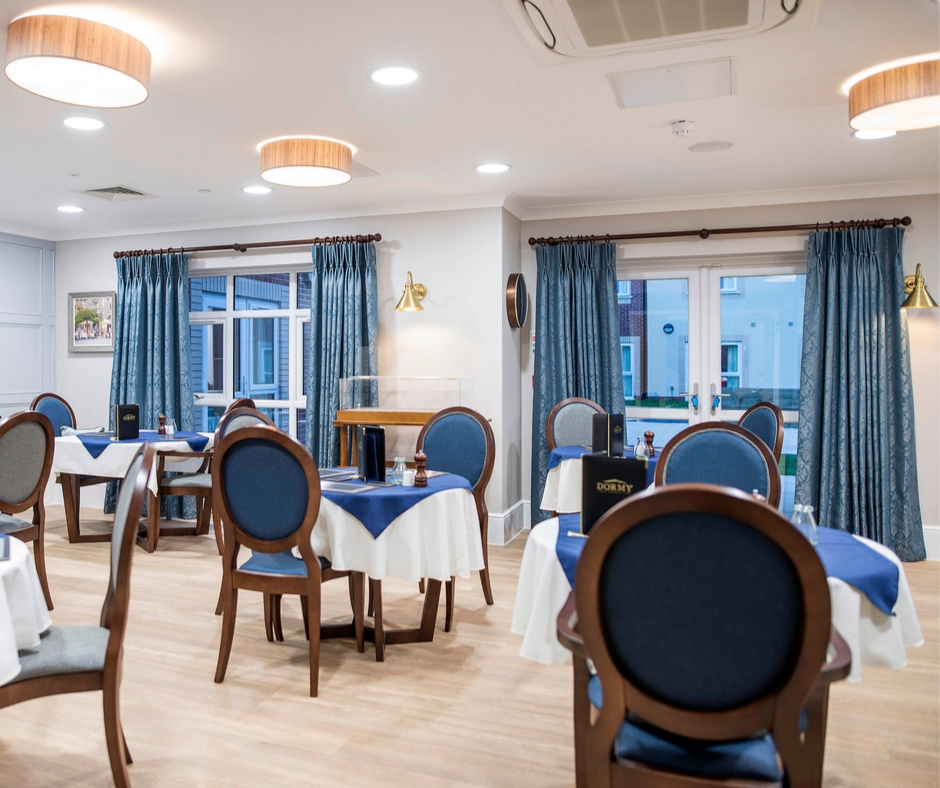 Dining room: Curtains - FR-One, Jubilea, Jaborine
Finally, the Dormy Care Communities care homes are striking in that are deliberately as 'unclinical' as possible. Nothing here suggests 'healthcare' to the people experiencing the interiors, and that is on purpose. The designers at KWI achieved this by using homey materials with a luxurious touch-and-feel.
Making interior spaces feel homier takes the focus away from worries, problems or illnesses that the guests might have, placing it squarely instead on their wellbeing as a fully-rounded human being.
Inspirational contract-grade interior fabrics with a touch of home
At FR-One we specialise in offering luxurious lifestyle interiors that fully comply with contract specifications. Our local partner Style Library Contract worked closely with KWI, supplying interior fabrics and fittings from across their brands, including from our own inherently fire retardant fabrics.
Style Library Contract provides clients with the means to create beautiful, design-led interiors that residents of healthcare facilities are proud to call home.
Interested to learn more? Get in touch with our team.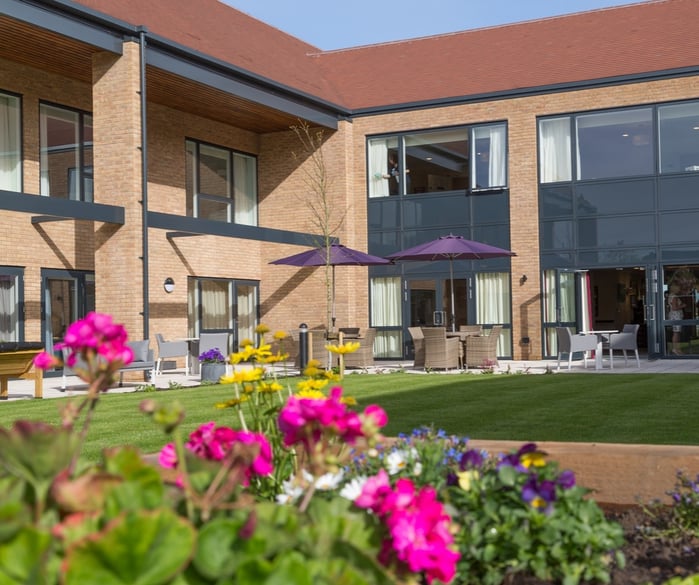 If you found this blog post useful, please share it online and spread the word!