Pari Daiza is a park and resort like no other. This 160-acre zoo and botanical garden is home to over 7000 animals, and guests can even stay overnight. Stays at the Pairi Daiza Resort give guests an exclusive, immersive experience with wildlife in a range of accommodation options deep in the heart of the park itself.
FR-One's inherently fire-retardant fabrics are featured in this unique resort destination, through the work of Topfloor NV. Let's look at why our FR fabrics are a perfect match for this exceptional hospitality experience.
Immersed in nature at the
Pairi Daiza Resort
The guest accommodations are beautifully designed to evoke the atmosphere of the natural world, and all materials specified work towards this end goal. There are a range of accommodations to choose from, nestled in the heart of The Last Frontier and The Land of The Cold worlds of the zoo. Here's a taster of just two:
The Full Moon Lodge, for example, accommodates up to 6 adults, 1 child and 1 baby, offering a magnificent view of the adjacent forest where bears and wolves live. The lodge interior has a modern rustic feel, with a stone fireplace, a private sauna, and even the tables and benches are made nearby in the Belgian Ardennes.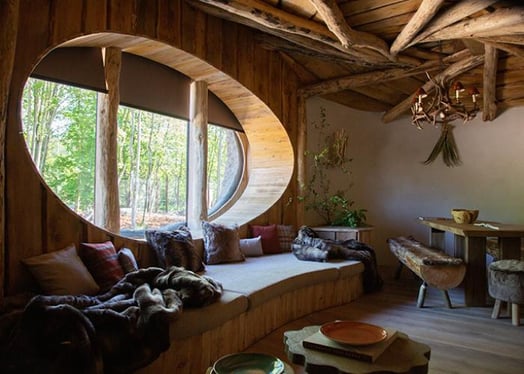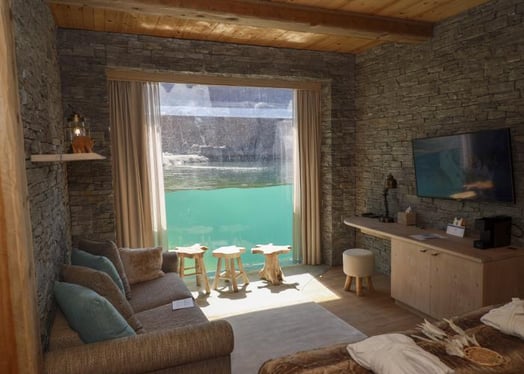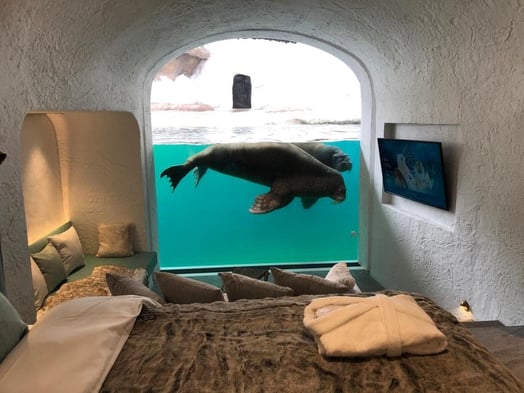 The White Bear House features a fresh, warm interior with blonde wood furnishings and a winning combination of natural materials, our soft FR fabrics and faux fur. The underwater window view submerges guests in the natural world of the polar bear.
Our FR fabrics add comfort, style, and safety to this immersive resort
Jadore, in 'flax', is one of our stylish inherently fire-retardant fabrics in situ at the Pairi Daiza resort accommodations. There are several special reasons this fabric is perfect for these adventurous accommodations:
Jadore is a very durable fabric design, with 80,000 Martindale rubs, and 50,000 Wyzenbeek rubs, creating a safe space that ensures children can continue their playtime even inside the lodging.
The washability of our FR fabrics supports resort staff in maintaining the accommodations, even as guests return to their lodging after a hard day exploring the wildlife, the gardens, and all the sticky ice creams on offer.
Our fire-retardant fabrics are known for their strong sound absorption properties. Jadore is tested under ISO 354-11654, a standard for sound absorbers for use in buildings that provides a rating of the sound absorption of a material. This gently closes out the sounds of the park at night, ensuring that guests get the best night's rest possible so that their adventures can be continued the next morning.
Finally, as a flatwoven, multipurpose fabric, it has a subtle touch in your hands that elevates a space with its understated visual elegance.
Ready when you are, wherever you are
Get in touch with us today to begin the specification process for your next hospitality project. For further peace of mind, it's good to know that FR-One fabrics meet all fire-retardant standards in force worldwide, both on land and sea.
Find your regional FR standards here.