Let's dive into how this all comes together to create the experience and the products that our customers demand.
What is an automated warehouse system?
At FR-One we are driven by our passion for our FR fabrics. This is driven by the constant evolution of our technical knowledge and expertise as we continue to invest in innovative operations and service solutions.
Our automated warehouse system (AWHS) empowers our staff and streamlines our services at the same time. It's quite unique in the industry as it was custom designed and built specifically to handle rolls of fabric.
But what is it? Put simply, warehouse automation is the process of automating the movement of our stock inventory into, within, and out of warehouses, in every step of the chain towards our customers.
Benefits of our automated systems – for our employees and business procedures
Technology empowers our warehouse teams to achieve even greater efficiency, augmenting their work by automating manual tasks, freeing them up to focus on what they do best.
Leveraging warehouse automation solutions helps our warehouse teams to increase productivity and shipping accuracy while also improving safety measures. In terms of productivity, the automated warehouse system operates 24 hours a day, 7 days a week.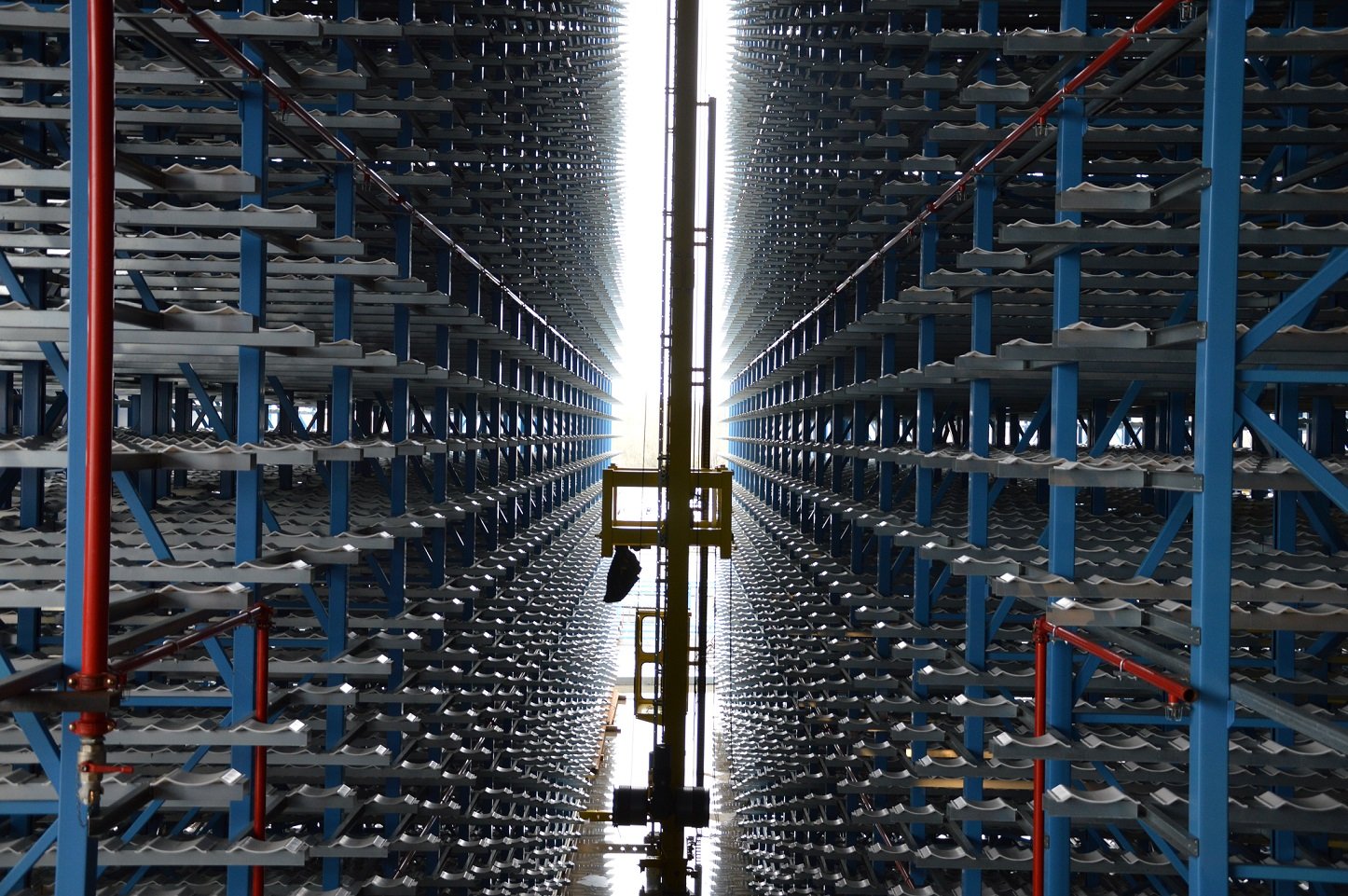 Space optimisation is another benefit of warehouse automation. Our innovative systems help us optimise our warehouse space because we can store rolls of fabric in higher locations that are tricky (30 metres high), or even dangerous, for humans and forklifts to reach.
Thanks to this, our AWHS stores 5,000,000 metres of fabric in upwards of 111,000 rolls. There are 340 "buffer" stillages equipped with RFID location tags, storing up to 5,000 rolls of fabric. This level of investment in the future and our staff is just one example of our future-focused, customer-centric operations.
What our automated logistics and handling procedures mean for our customers
In the B2B (business-to-business) textiles industry, we are a unique frontrunner. We are unusual in this industrial environment, as our stock levels are high, and our systems are streamlined so that everything runs quickly.
For example, if an order is placed today, it will be packed and shipped tomorrow. Every roll of fabric is unique and is scanned through the system so that it is immediately trackable at all stages of the journey.
All of this comes together to provide the best possible service. Our customers can check their inventory online at any time of the day or night on a system that is always available.
This fully online service allows customers to track orders in real time, among other issues.
We go the extra mile to find the best fit for our customers
We do not invest in different technologies if they do not provide a meaningful solution to issues that our customers are having throughout the world.
Yes, our digital scanning and order processing systems are automated, but when our customers have questions, it's a real-life person that answers and is ready to help, within a few hours at most.
Our warehouse automation is supported by SAP S/4HANA, a future-ready enterprise resource planning (ERP) system with built-in intelligent technologies, including AI, machine learning, and advanced analytics. Our entire company runs on this ERP.
Our automated systems would be nothing without the hard work of our highly motivated, creative, and skilled team of engaged employees.
Curiosity is at the heart of FR-One
Are you interested in learning more about the innovations that are transforming our industry? Stay curious. Contact us today.