Interior architecture with a people-first approach
The spaces that people inhabit have an enormous effect on their lives, from how they feel and how they behave to how they interact together.
Architects, then, have an important role to play. Their work shapes the impact that public spaces have on everyone who uses them. It's for this reason that creating public indoor spaces such as airports, railway stations and hotels is more complex than it seems at first glance. When the balance of aesthetics and functionality is thrown into the mix, designing public spaces becomes more of an art than just a technical skill.
The buildings become just one piece in the built environment people inhabit. The buildings become part of an environment to daily users, to frequent guests, and to community groups. People move in and out, spending minutes or hours within these boundaries. At what point do we ask: what do people gain from spending time here? Does this building contribute to our personal well-being? Does it help create social connections? Does it strengthen the community network? – Kate DeSantis, Putting People First
Contemporary interiors with the public in mind
The Book Room, Pune, India
Designed by Studio Infinity, this library space is a departure from the usual public architecture and interiors we might associate with libraries.
Earthy-tone colours and textures ground these interiors, moving away from the typical formal library setup, enhanced by natural plants scattered throughout the space. Plants are integrated within bookshelves, reading tables, seating, and landscape pockets, creating a soothing effect that breaks up the monotony of extended furniture pieces.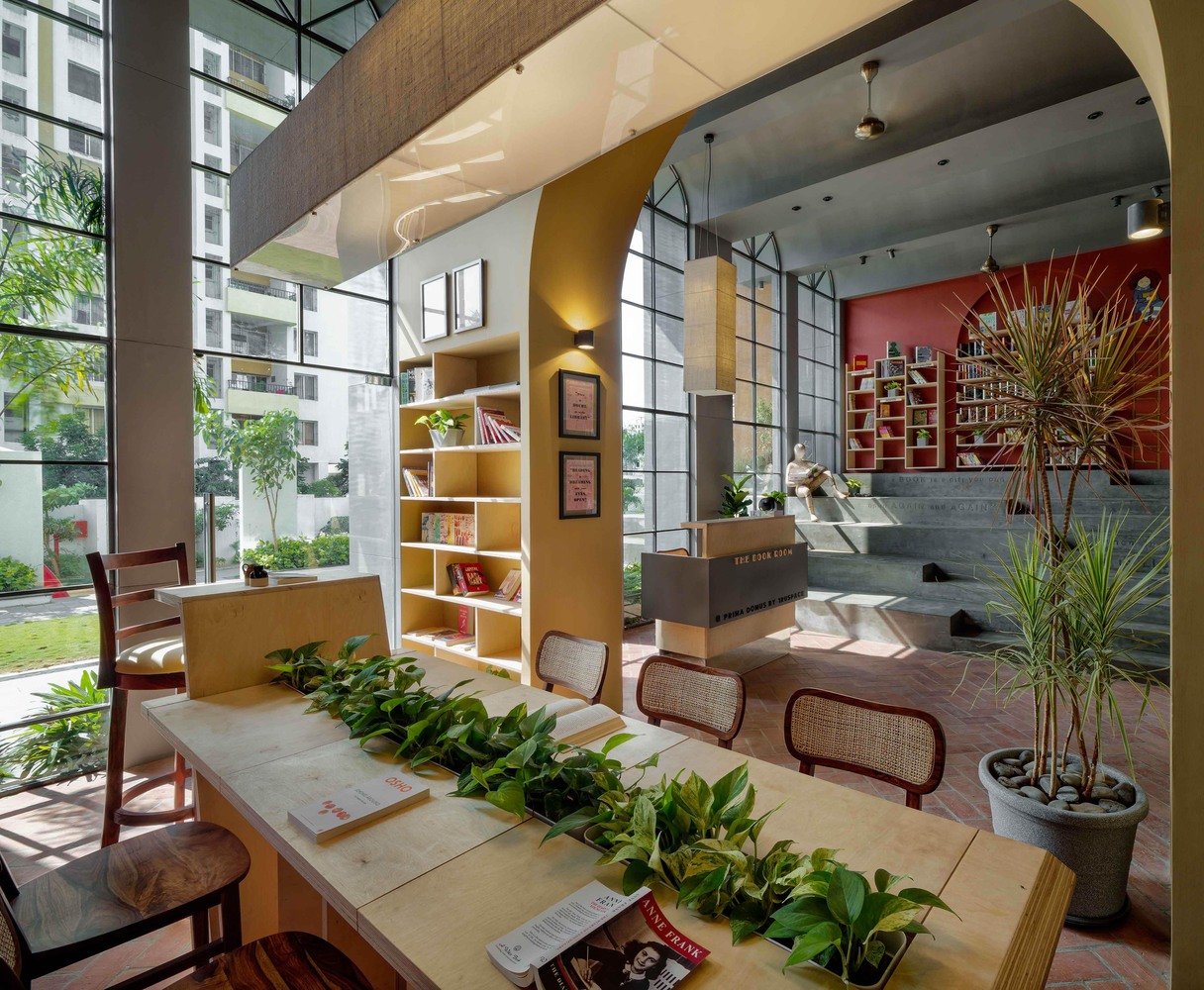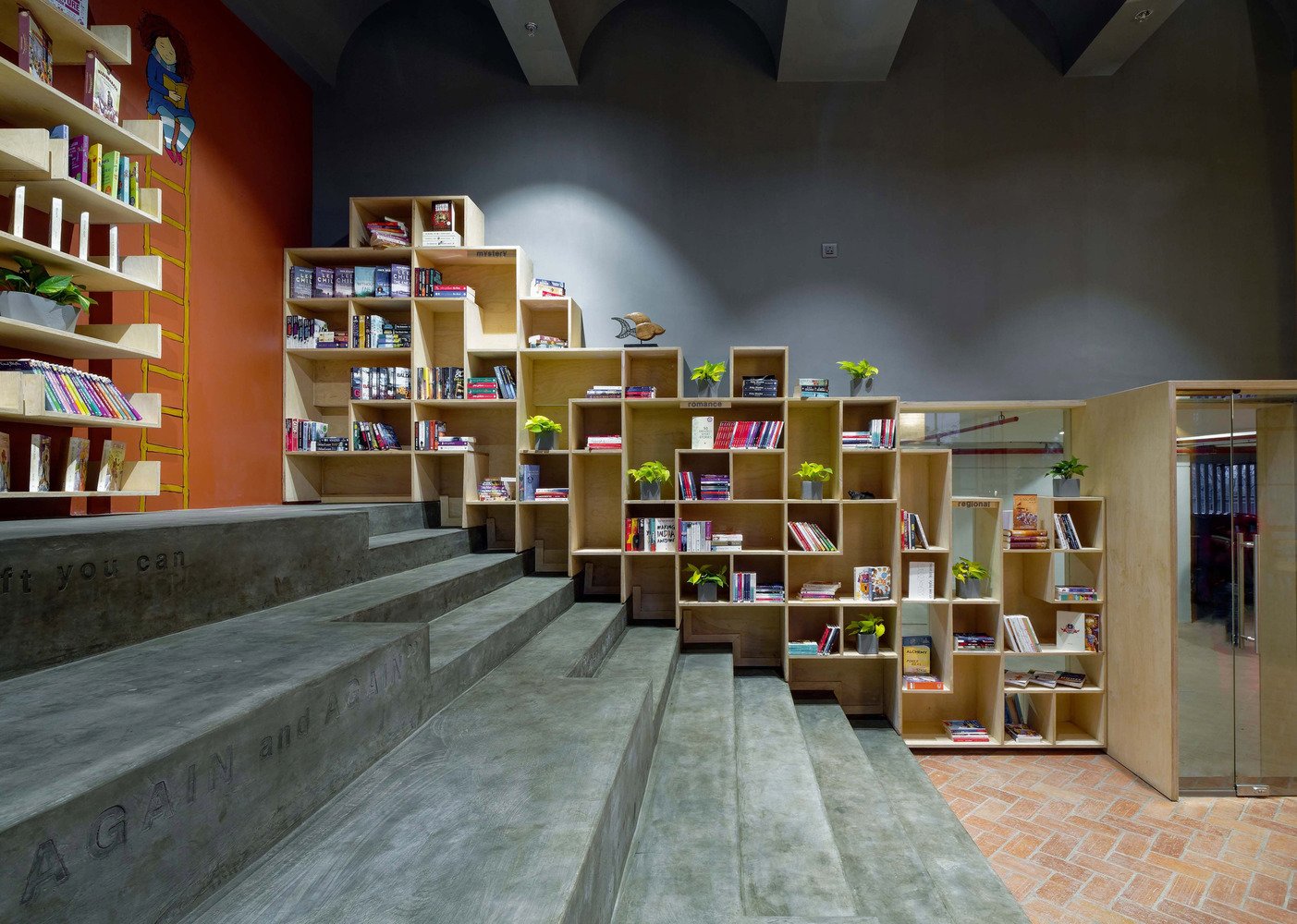 Lastly, each detail and design input is focused on making a user-friendly space where reading is enjoyable and knowledge is easily shared.
The Treasury Cocktail Bar, Sioux Falls, USA
Renovations on the Sioux Falls National Bank building began in 2018, transforming the building into a fabulous hotel with a curiously quirky cocktail bar located in what used to be the bank vault. The refurbishment retained some beautiful architectural elements to create an indoor public space that's at once classic and comfortable, as well as stylish and contemporary.
The original terrazzo floor, for example, remains in situ. Shades of subtle green complement the white and black marble throughout, picked out with flashes of striking maple.
All details and design decisions are focused on crafting a convivial, inspiring space where people can relax and unwind. We're proud to say that our inherently fire retardant fabrics have a part to play in the ambience and usability of this wonderful space.

Fire retardant fabrics that are ready for public spaces
From the very beginning, FR-One has aimed to help our customers, architects included, to get the best results in their interiors projects. We strive to do this by equipping industry professionals with high performance interior fabrics that are both beautiful and conform to all worldwide fire retardant safety standards.
With our high-performance fabrics seamlessly supporting public spaces, architects and designers can focus on the bigger picture without needing to triple check the details of their specified fabrics. The sheer diversity of our inherently FR fabric collections empower architects in realising their ultimate vision.
Get in touch with us today to begin the specification process for your next hospitality project.