Today we look a little at where this geometric pattern originated, followed by a dive into three of our own herringbone-patterned furnishing fabrics.
First: what is herringbone pattern? Where does it come from?
Herringbone consists of an arrangement of rectangles in an angular geometric pattern, named after its resemblance to the crosshatch skeleton structures of herring fish. The earliest herringbone patterns can be seen throughout the ancient world, from the complex jewellery of A
ncient Egypt to the endless paved roads of the Roman Empire.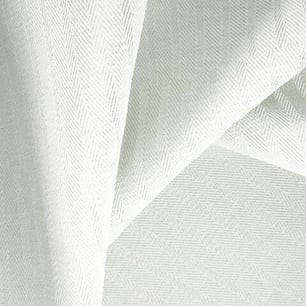 Exploring our herringbone pattern FR fabrics
FR-One's fabric ranges include many patterns and design characteristics, of which herringbone is just one. From moiré to plaid, dimout to velvet, our inherently fire-retardant fabrics are ready for all applications and interior environments.
Here are three of our favourite fabrics in herringbone patterns.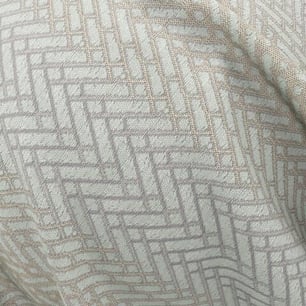 A dim out perfect for any environment requiring privacy and a certain darkness. The collection is characterised by soft and easy-going shades in a natural and earthy colour spectrum. Its two matt designs combine style and functionality whilst its herringbone pattern will add a subtle lustre to any interior.
It's one of our customers' most requested FR-One fabrics: be sure to browse this comprehensive list of our best-selling fabrics.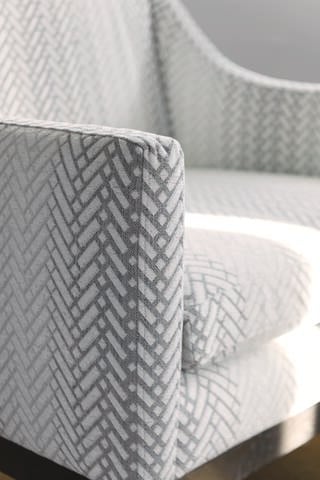 Introduce simple geometric shapes to a scheme with 'Laneway' from the Lazarus collection. It's one of our inherently FR chenille jacquard fabrics, available five different neutral colourways. It's perfect for use on both curtains and upholstery as it is a fully rounded multipurpose fabric.
This design from features herringbone in bold, oversized pattern, offset by chenille yarns that create a wool-like impression and dry, tactile, yet soft touch. This design has a striking presence in an interior space.
Inspired by contemporary tailoring and suiting, 'Obay' is an FR jacquard fabric available in 12 understated colourways.
It features a debonair herringbone pattern that radiates an uncomplicated, refined simplicity. Obay is also one of our textured fabrics.