The sound of success
In this post we'll be looking at the research done on restaurant noise levels.
We will also give actionable advice on how to balance out the acoustics to make your bar or restaurant space as inviting as possible using upholstery, wall panels, and padding.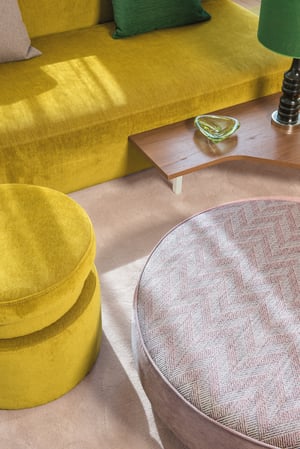 Rising noise levels of bar or restaurant spaces
If your guests are greeted by a wall of noise they might just turn the other way immediately and walk out. Nobody likes trying to enjoy a meal in a restaurant with the acoustics of a swimming pool.
One way to take back control of the (rising?) noise levels and even the quality of that noise in your restaurant is to start thinking about acoustics.
One straightforward way to so this is to look to your furniture itself, such as booths and bar cladding, while also thinking about the walls, the ceiling, and even under the tables.
Read on for practical tips to make your restaurant acoustically friendly.
Are restaurants getting louder? Possibly. Recently in the USA, diners reported that noise is the most bothersome thing about going to a restaurant (at 24%), followed by service (23%), crowds (15%), high prices (12%), and parking (10%).
Acoustic design in restaurant spaces
Help, however, is at hand, and in comes in the form of what's called acoustic design.
Primarily dealing with acoustically absorbing material, acoustic design has branched out into other areas, now developing sound reflecting material as well.

The thing about it as well is that you can apply as much or as little acoustic material as you want, thus controlling the acoustic qualities of your space.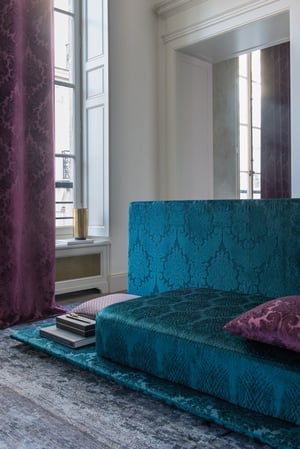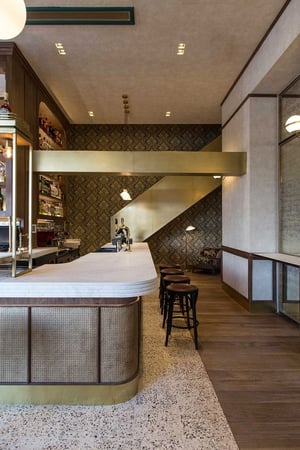 To avoid the continuing reverberation of sound, placing acoustic material into your space is your best bet.
This is what we were talking about earlier when we said it was time to look to the walls: they're critical areas of open space that naturally amplify sound.
Cover open wall spaces with upholstered wall panels
Upholstered walls make a bold statement regardless of colour or whether there's a striking pattern used in the fabric or not.
Evolving from the use of tapestries in centuries past, wall upholstery is both visually striking and aurally important, as it absorbs and reflects sound. We therefore recommend to bar and restaurant owners that they think about upholstering not only the booths and the floor, but also the walls.
It doesn't have to be every wall, as even a single statement wall of boldly coloured upholstery panels can make a big difference in terms of sound levels.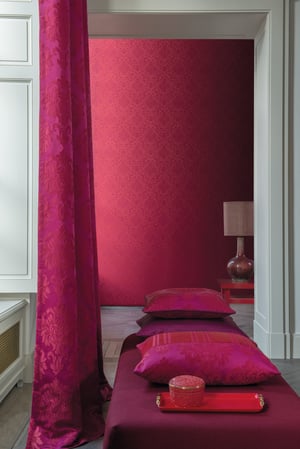 We would advise going with fabrics like velvet, as it has a denser pile and is therefore more sound-absorbent, but perhaps to think twice about using jacquard velvet, as there are variations in pile density in it and it might not be as sound absorbent as a plain flat velvet might be.
Velvet and textured fabrics (check out Moon in pewter and Lazarus in mineral) are the simplest solution here.
Upholstery works on ceilings, too
Our second tip for you today is not to forget the ceiling when you're thinking about upholstery panels and sound absorption.
The middle of the last century was the heyday of sumptuous upholstery, and ceilings were no exception to this rule.
You could go with something bold (statement ceilings are a thing after all) taking a leaf from the 'sumptuous dining in the 1960s' playbook, or you could break up the block colour by using a pattern.
If you're a bit wary of bold, bright colours: fear not. You could by all means use upholstered panels on your ceiling but in neutral, more organic colourscapes (we'd suggest something textured but natural, like our Gloria from the Genova collection, available in sesame or poudre).
Bonus tip: padding under restaurant dining tables
It might seem a little strange, but under-table padding is a rising trend in restaurant interior design and for good reason: it works.
Padding under the tables is an invisible way to add sound absorbing material to your bar or restaurant, should you not want to go with the 'visible upholstery panels' option.
Under-table padding doesn't have to be boring. Brightening things up with metallic tones or using plum and blue shades could give your guests a pleasant surprise.
The way it works is that sound that is reflected up from wooden or tiled floors will bounce back against the padding under the tables, thus controlling the acoustics of your space.
Under-table padding is quick and easy to fit, requiring no downtime for application and little consideration for colour or pattern.
FR-One's sound absorbing FR fabrics
Aside from more unusual options like walls and ceilings, there are other areas in bars and restaurants that are no strangers to upholstery.
We're talking about booths, the bars themselves, free-standing chairs, couches, half-walls, dividers: you name it, it can and has been upholstered.
Open your creative mind and you might be surprised by what inspires you! What ideas have you been having to regulate the noise levels in your space? Let us know on
our Facebook page
!