We're proud to say that our inherently fire retardant fabrics were included in the process of designing this beautiful destination, through the work of Denantes, specialists in linen and decoration for professionals for 300 years.
A bubble of relaxation in a busy world
Honfleur was a vibrant source of inspiration for Impressionist artists, and now there is a new source of inspiration for travellers and staycationers: the Hotel Eden Spa.
Ideally located, the newly opened hotel is close to both the historic town centre and the chic offerings of the Honfleur Normandy Outlet village. It was designed with careful attention to offer guests a haven of relaxation after their day discovering the Norman heritage or luxury shopping nearby, featuring a range of facilities from saunas to a swimming pool. It caters for business travellers as well of course, with a seminar room that can hold up to 50 people.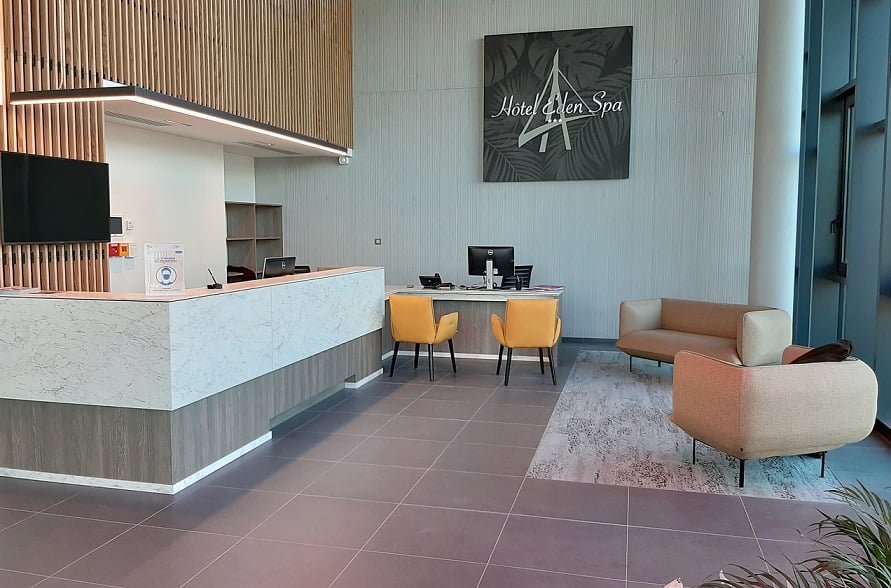 The hotel design reflects the town, its history and the needs of its guests, visitors, and business travellers. They worked with Denantes for the decoration and fitting out of their seminar room, breakfast room, 57 guest rooms and the reception area. Some of the furniture throughout the hotel was custom made. We are proud to be a part of a project that paid such attention to the small details that make an experience truly special.
The FR-One solution
The well-appointed guest rooms are both tasteful and tranquil – perfect for a good night's sleep. Denantes provided linen, bedding, furniture and textile decoration. Our stylish inherently fire-retardant fabrics contribute to this zen-like atmosphere thanks to their sound absorbing properties.
For further peace of mind, it's good to know that FR-One fabrics meet all fire retardant standards in force worldwide, both on land and sea. Find your regional FR standards here.
The pleated drapery in the guest rooms showcases one of our spectacular FR jacquards: Lipova, in 'fog'. Lipova is a multipurpose fabric that creates the appearance of lifelike marble forms on both upholstery and drapery applications. Fire retardant chenille yarns create a wool-like impression and dry, tactile, yet soft touch. View it in our products section: it forms part of our Lithology range, and is guaranteed to make a statement in any interior.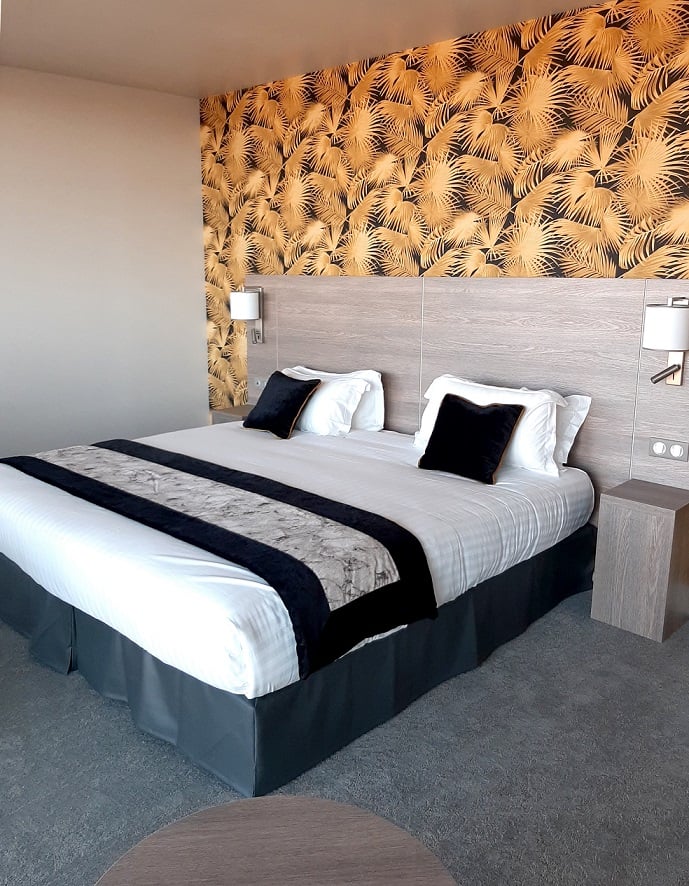 You can find Lipova on the bed runners too, with onyx bands in Moon, to bring a lovely contrast. Moon is a sumptuous viscose velvet, available in twenty-five beautiful colours to complement FR-One's range of design. Moon's excellent durability and luxurious touch has made this fabric the go-to velvet for designers and specifiers alike. The decorative cushions in the guestrooms are also in Moon, contrasting 'onyx' with piping in 'gold', recalling the organic lines of Lipova.
Reshaping the future of FR fabrics
Our re-invention of Moon has been really exciting. It's our best-selling velvet, and now it's recently been refreshed with a deeper colour palette, available in a total of 39 rich, on-trend colours. Read about our RE-invent collection launch.
Get in touch with us today to begin the specification process for your next hospitality project.