In this article, we explore three extraordinary hotels that have embraced FR-One fabrics in their captivating interiors. Discover why FR-One fabrics are the perfect choice for these fabulous destinations, as we delve into their unique features and the ambiance they create.
All of these luxury hotel projects were specified through Acacia Fabrics. Founded in 1994, Acacia Fabrics is recognised as a leading distributor of superior European fabrics throughout Southeast Asia. Headquartered in Malaysia, they have regional offices and warehouses in Singapore, Thailand and Vietnam.
1: TIA Wellness Resort, Vietnam
Located in the white sands of Vietnam's famed Central Coast, the TIA Wellness Resort is a sanctuary of relaxation that boasts awe-inspiring interior design in their private villas, each with their own pool and courtyard garden.
They pride themselves on providing authentic wellness, and to do so in style. Set in a lush tropical garden with a striking waterfall at its heart, their state-of-the-art wellness facilities include everything from 22 private treatment rooms to larger saunas and hydrotherapy rooms.
From the moment you enter, FR-One fabrics help contribute to this feeling of authentic well-being.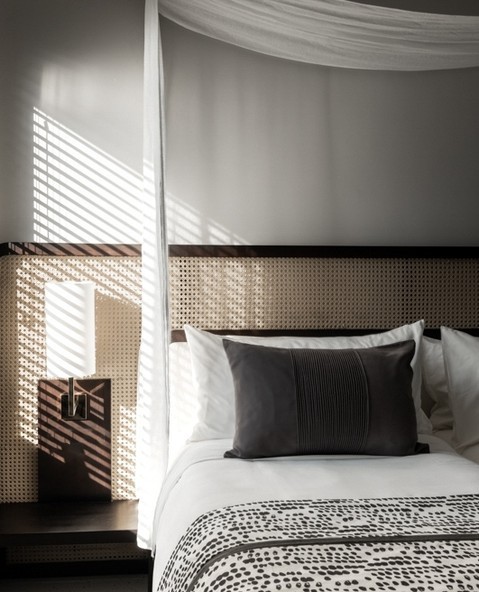 Did you know? Acoustics are key with FR-One fabrics.
FR-One fabrics not only enhance the visual appeal but also contribute to a serene environment conducive to rejuvenation. Controlling the interior acoustics of private spaces such as guestrooms is an important factor in the overall experience of your hotel guests.
Drapery also sets the tone of a room by diffusing incoming light, creating a serene interior environment that's not only restful but also private. Learn more about sound-absorption and drapery.
2: InterContinental Phu Quoc Long Beach Resort
The stunning InterContinental Phu Quoc Long Beach Resort combines lavish comfort with an exquisite beachfront location. You can stay in private rooms, suites, or even entire villas on one of Vietnam's most beautiful tropical islands.
It even features an iconic cocktail bar, INK 360, designed by Ashley Sutton.
FR-One's performance fabrics play a pivotal role in transforming its interiors into unique sensory experiences.


Did you know? FR-One's performance fabrics are perfect for hospitality applications.
This is because they've been tested to such a high textiles standard, making them perfectly suited for the demands placed on it by this bustling cocktail bar and diners. Get in touch with us today to begin the specification process for your next hospitality project.
3: Sheraton Saigon Hotel and Towers
Gracing the heart of bustling Ho Chi Minh City, the Sheraton Saigon Hotel and Towers is a five-star experience all on its own.
From its glamorous outdoor pool to its enviable location and impeccable service (of course!), every aspect of this iconic establishment breathes indulgence.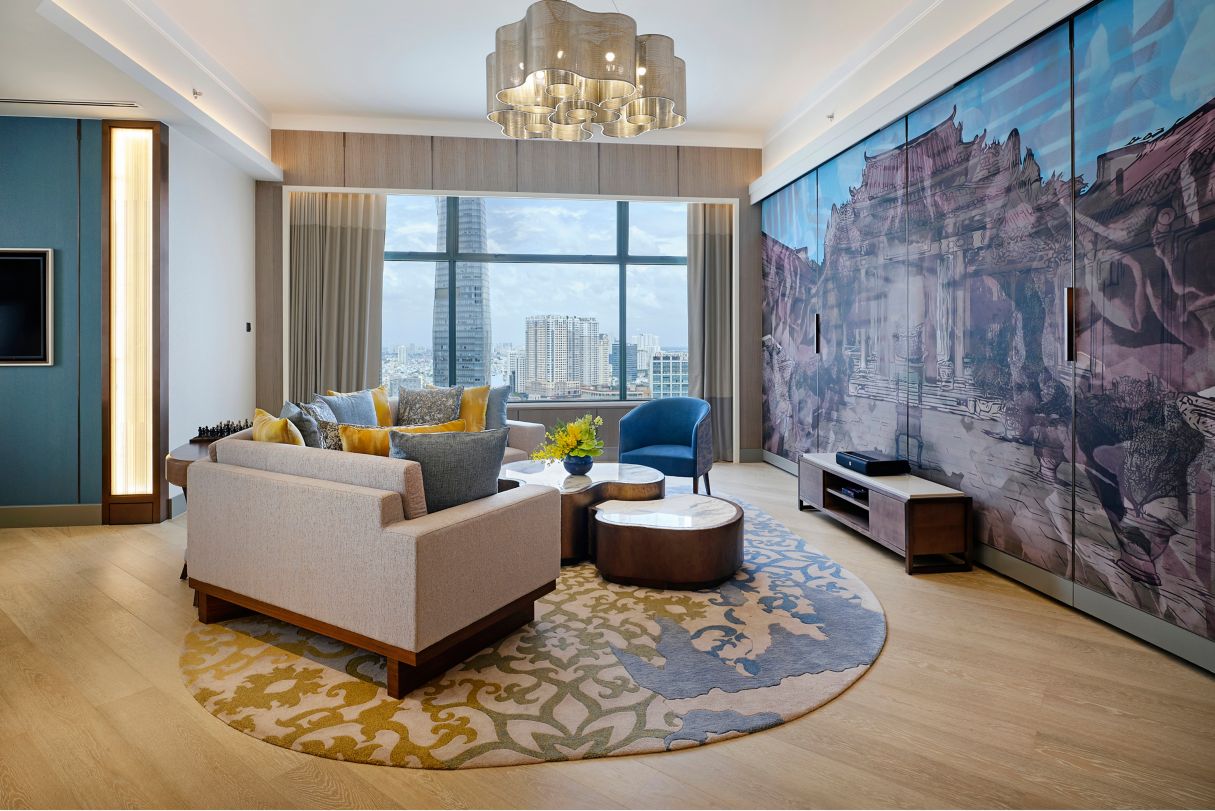 Did you know? FR-One fabrics are known for their durability.
FR-One fabrics exhibit exceptional durability, allowing them to withstand the demands of constant use without compromising on quality. Learn more.
Style is more than visual appeal: Embracing FR-One Fabrics
Specifiers know that the appeal of our collections goes beyond what you can see and touch. What other factors make our textiles so special?
Our collections are the result of a long series of responsible choices. All of our inherently fire-retardant fabric ranges are certified under the STANDARD 100 by OEKO-TEX®, the world's best-known label for textiles tested for harmful substances. Learn more.

Our newest fabric ranges, RE-Invent and SPELLBOUND, showcase new ranges manufactured from recycled polyester, fully certified and compliant with the Global Recycled Standard (GRS). Read more about our sustainability journey.

FR-One Fire Retardant Fabrics are the number one choice for procurers, interior designers and architects around the world thanks to our guarantee that they meet the highest Flame-Retardant standards in force either on land or sea. Explore the horizon with us.
Experience true luxury in hospitality
When designing your own lavish retreat, embrace the allure of FR-One fabrics, and elevate your hospitality experience to extraordinary heights.
After all, luxury is in the details. If you're ready to create a high-end hospitality space that leaves a lasting impression, explore the exquisite range of FR-One fabrics. Why not start with SPELLBOUND?