2020 is finding its feet in this dynamic yet glamorous style, and there seems to be more contract projects than usual using Art Deco essentials to create something more contemporary.
In this blog post we have a quick look at what those essentials are, and take inspiration from current projects around the world.
Art Deco everywhere
Every facet of the design world was touched by the influence of Art Deco, from interior décor to glassware fashion and even, yes, vacuum cleaners.
If you're thinking of the Great Gatsby, you're in the right ballpark. It took its name, short for Arts Décoratifs, from the Exposition internationale des arts décoratifs et industriels modernes (the International Exhibition of Modern Decorative and Industrial Arts) held in Paris in 1925.
Art Deco was inspired by many desperate happenings in the world at the time. From the discovery of Tutankhamun's tomb in 1922 by Howard Carter to the 'exotic' interior styles of China and Persia, to bold colours of art movements such as Fauvism and the Vienna Secession (think Gustav Klimt and Koloman Moser).
As such, Art Deco featured rare and expensive materials, such as ebony and ivory, and detailed, elaborate artisanship.
It has a striking presence and is immediately recognisable from its clean lines, repeated motifs and love affair with geometric forms.
New Art Deco casts seriousness aside
21st century Art Deco, coined as 'Neo Deco' or New Art Deco takes these ideas around glamorous luxury and emphasises the joyful exuberance that made Art Deco such a dynamic movement. New Art Deco has a distinctly organic, hand-made feel to it, but the creation of calm, orderly interior spaces is still paramount.
It's just a really fun interpretation of an established design school, and it's currently inspiring interior décor projects and architectural constructions around the world. The colours may be highly saturated, but the essense of Art Deco is untouched.
Let's take a look.
21st Century Interiors with an Art Deco Twist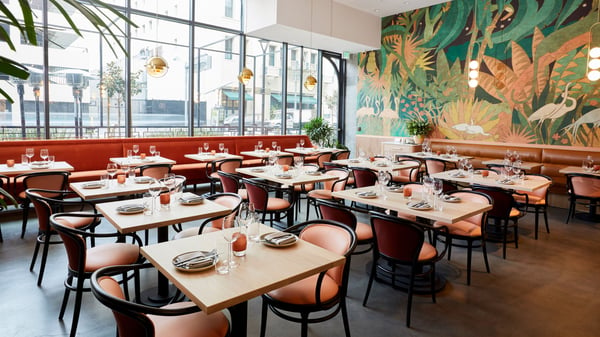 Red Herring, the most glamorous restaurant in LA.
Photo from Architectural Digest. This bold transformation from warehouse to wow was made possible by designer Marissa Zajack.
The curved seating juxtaposes with the more classic Art Deco style pendant lamps throughout the space.The stunning giant mural on the back wall is by artist Mike Willcox.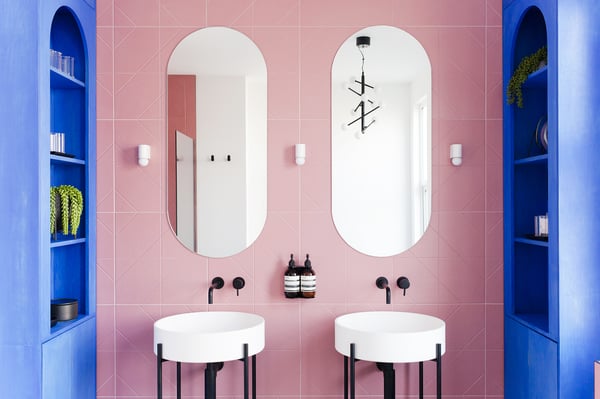 This uplifting yet classic interior in a private home in Hither Green, South London - project by 2LG studio.
Again we're seeing curves but accented by geometric linework in the tiling and offset by the irrepressibly optimistic colour scheme that gives us an Art Deco inspired interior with a decided Kindercore feel.
Furniture with a more rounded shape was much in evidence at the latest interiors fairs. Think curvy, 'fat' sofas and organic-shaped pieces that add an unexpected element of playfulness to a space. - Optimism is trending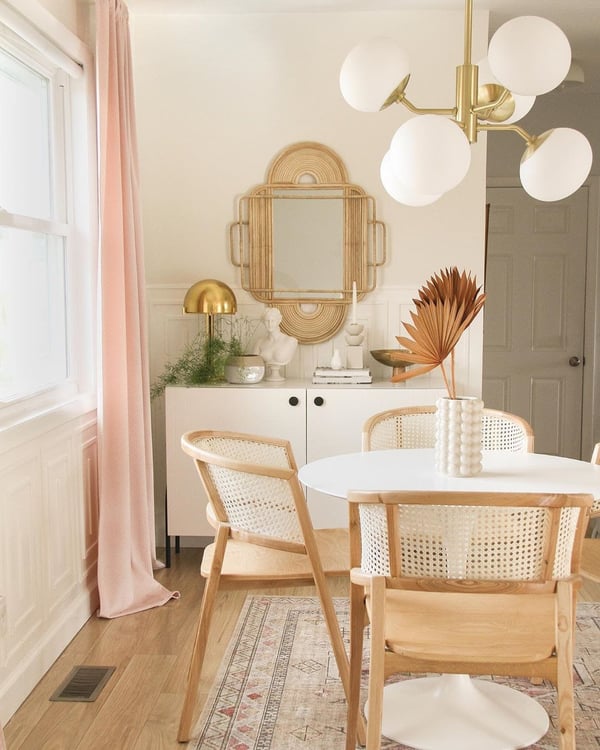 Soft mood New Deco by 'serial decorator' Brit Arnesen.
What Brit Arnesen began as an Instagram account dedicated to the ongoing renovation of her ranch-style house in the American Midwest transformed into an influential lifestyle blog.
To bring a dreamy lightness to your interiors it's worth introducing sheer, floaty fabrics and cloud-like textures. - Read more about Organic Iridescence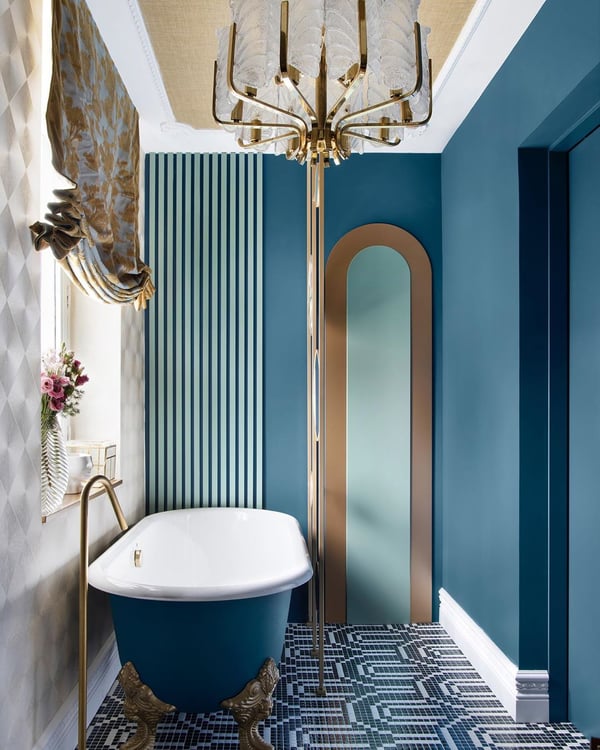 Find this delectable bathroom at The Berries Club.
Designed by VG Living in Madrid, it's "a tribute to these independent, unique and different women such as Coco Chanel, Charlotte Perriand, Zelda Fitzgerald, Josephine Baker or Clara Bow who redefined the rules of the game and rebelled against the conventions of a society that did not define them."
Just look at those tiles.
It's all about bringing a sensuous, luxurious look to a space, with a nod to more comfortable, opulent times. Luxurious materials and history in the making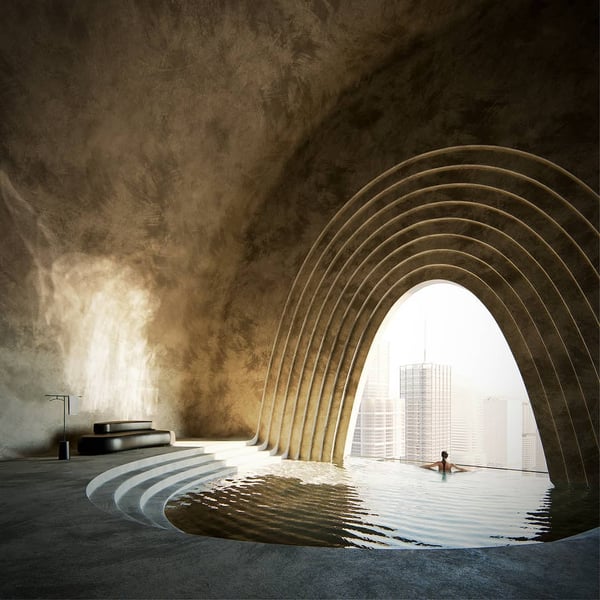 Art Deco in the digital world.
No overview of New Art Deco is complete without an awe-inspiring interior (with a view!) like this one.
This space in Barcelona is in fact synthetic. It is a conceptual 3D render by architect & 3D artist Javier Valero. This is a beautiful example of one of our identified trends in 2020/2021 : Futurism, which has a focus on the more human side of technology.
We hope you've enjoyed this article! Explore the key 2020 -2021 design and lifestyle trends below, and infuse some contemporary glamour into your next contract project.